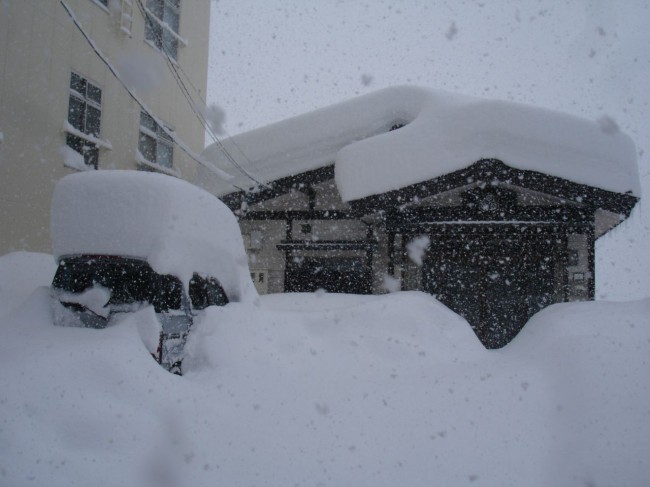 Base up top: 370 cm                  Temperature; -7 Degrees
Base at bottom; 280 cm
New Snow: 40 cm Plus 30cm since the last report so lots!
It is phenomenal! The snow just keeps coming in Nozawa Onsen. There is so much the call of 'too much snow' is being heard on the lifts and in the bars. Nozawa even made the National News today as being one of the snowiest places in Japan!
We had 1 meter of snow yesterday in total, 65cm at night then another 35cm during the day. The heavens finally stopped thumping us late in the afternoon just in time for a BBQ!
There has been at least another 30cm plus of snow fall since 2 am this morning probably more and there are still huge flakes flowing from the sky now as I type.
Yesterday was an epic day on the mountain, just had to find somewhere steep enough to get you sliding. If you did but the rewards were insane with chest deep runs in places. In many spots including the trees at Yamabiko it was just too deep anyone venturing in got stuck and took up to 2 hours to dig themselves out and back on the safety of a groomer.
Today even the groomers are like powder runs and some of the flatter ones it is hard to get the speed to cruise thru the ever-building powder! More heavy snow forecast thru to tonight so it is going to be a wild ride. Hang on and good luck!