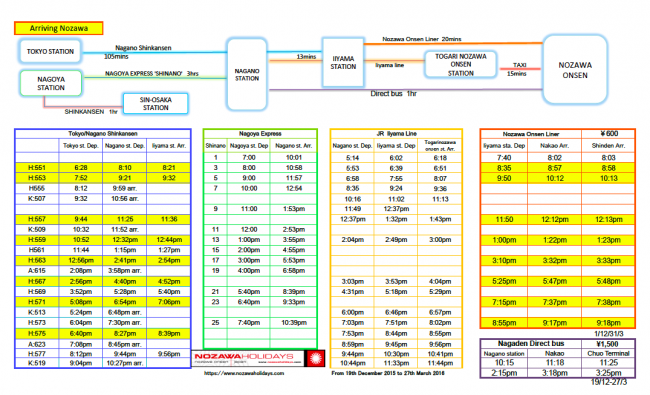 For anyone coming up to visit us in Nozawa this season the train and bus timetables are always very handy. With the new Shinkansen – Bullet Train from Tokyo to nearby Iiyama station its is quicker and easier to get to Nozawa than ever before.
You can be in the snow or an Onsen in just over 2 hours!
Just jump on the Hokuriku Shinkansen from either Tokyo or Ueno Stations and get off at Iiyama Station about 1 Hour and 40 minutes From there take the Nozawa Onsen Liner Bus just 20 Minutes to Nozawa Onsen. Get off at the right stop, Nakao, Shinden or Nozawa. All very easy
Can check them here at this link too under the Train tab and other handy hints on getting to Nozawa
How to get to Nozawa Onsen
Safe travels and we look forward to seeing you soon
Ps It just started to snow in the Village!