If like me you were probably not even aware that Turkey had good snow little lone a riding culture. Patagonia does some pretty cool things and in this short film they send a few of their riders into the foothills of the Kackar Mountains of Turkey to discover the heritage of snowboarding.
The film goes for 15 minutes and is well worth grabbing a cup of tea and taking a break in your day to check out. The people of the small mountain village of Petran have been riding these magical wooden planks for around 300 Years.
Snowboarding Petran Style
The construction is pretty basic just some planks of wood nailed together and then the ends steamed to give some rocker and some cow fat rubbed on the base to help with the slide. But there are some pretty simple technical additions that help make it all work. Like a guide rope on the front to hold on to and a simple stick at the back which acts as an anchor to help steer and give some stability.
Also instead of bindings there are some slats of raised wood along the deck to dig your feet in and help hold on in the powder.
The whole vibe of the area is unique and intriguing and the village has a bit of a Nozawa feel with the Turkish baths instead of Onsens. Anyway always fantastic to discover new parts of the globe and the roots of a sport we all love. Hope it helps you to get a bit excited about your next journey. Mr. Burton may be up for some royalties to the custodians of "Petranboarding" to help keep the sport alive.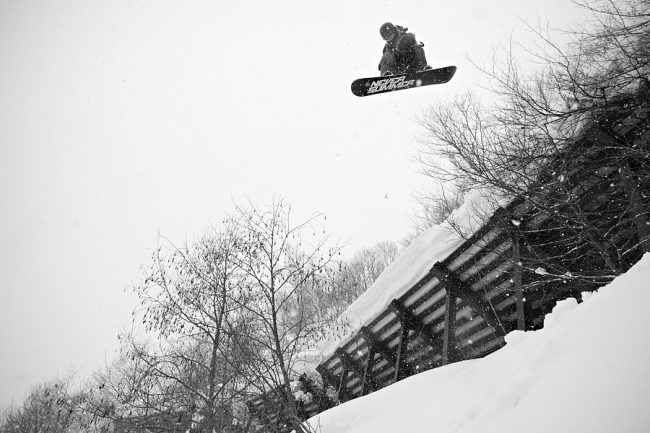 If Nozawa Onsen is your next Snowboarding destination you can check out more about the resort here Nozawa Onsen Ski Resort