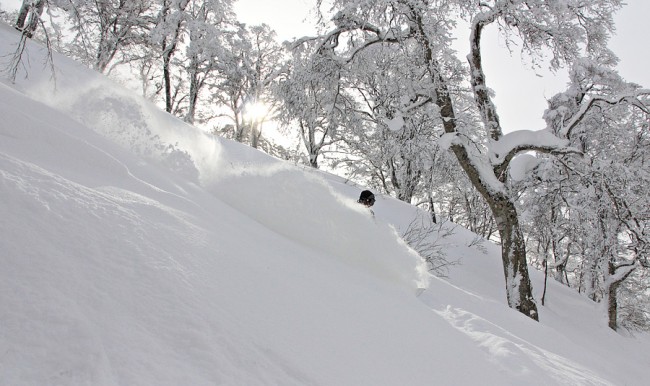 Base up top:  240cm        Temp Top;   -8 Degrees
Base at bottom:  140cm
New Snow since close: 0cm
Weather; Sunny, increasing clouds
We woke to another clear blue day here in Nozawa Onsen. Again, the sunrise mountain alpenglow provided an impressive spectacle and cloud-free night ensured we have no new snow to speak of.
The groomed runs should be firm and fast today with cold overnight temperatures and it's still possible to find fresh tracks off-piste with a bit of a search.
Yesterday was an extremely quiet day on the mountain and in the less frequented areas it was possible to have entire runs pretty much to yourself. Today looks like it will be another exceptionally quiet day with seemingly few day trippers making the journey up to Nozawa Onsen.
Its looks like a few clouds should gather around the area this afternoon and a few flurries are not out of the question. Tomorrow should see snow showers and cold temperatures to top up the cover.