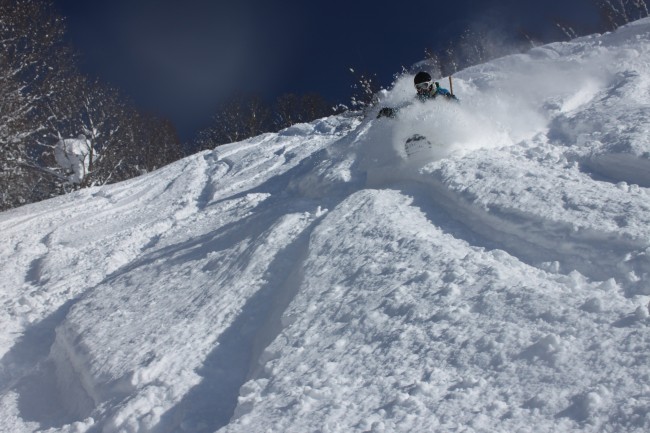 Base up top: 380 cm                  Temperature; -6 Degrees
Base at bottom; 270 cm
New Snow: 10 cm
Has been a while since we had this rhythm beating in Nozawa. Had been getting used to constant snow. But today is a magnificent day with at least 10cm of fresh snow and glorious sunshine.
Yesterday was more or less a carbon copy with pristine conditions all over the resort and about 20cm of fresh. Everyone was back down as late as possible enjoying the magic sunset.
The snow is supposed to continue today and a bit tomorrow then blue bird on Sunday but at the moment it is pretty bright outside at the moment.
For anyone coming up to Nozawa in March or April here is a list of upcoming events. March is all happening in Nozawa with lots of cool festivals and events organized
Nozawa Onsen Spring Events Calendar
3rd March  Lantern festival  19:00  Hikage Slopes
10-11th March  Hatoguruma cup – ski race
12th March   ski/snowboard in the morning before lifts open to the public
meet at Nagasaka gondola at 7:50 am
12th March   ski with famous skiers for half day
apply before 9:30 am at Hikage ski school
First 15 people only
14th March  white day
10:30  Hikage Slopes
free chocolate fondu for female
17th March family festival
25th March 10:00  Yamabiko Slopes
spring festival
various event such as games, free hot pot & sake etc
13-15th and 28-30th April Yamabiko Slopes
Try new release ski at Demo Day
bring photo ID
30th April + 4th May Nagasaka Gondola – nagasaka station
free mountain vegetable tempura for everyone
Snow should still be good all the way too with the abundance of base this season. So a great time to find yourself in Nozawa Onsen. We look forward to seeing you