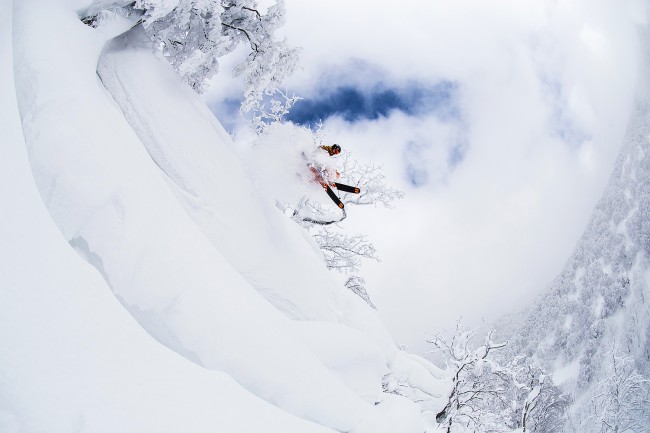 Base up top: 410 cm    Temp Top; -3 Degrees
Base at bottom; 260 cm
New Snow since close: 0 cm
Weather; Overcast
The prefrontal warmth has hit Nozawa Onsen this morning. High cloud and southerly winds are marking the inflow of an approaching front and its a strong one. The forecast has not backed off regarding predicted amounts so we should see huge snowfall totals overnight tonight. For the remainder of today expect high clouds, some wind and a freezing level of around one thousand meters, which will drop during the afternoon. There will be good skiing and boarding on groomed pistes and up top however the lower trees will retain variable snow that is affected by the warm air. Its a good day to wax the powder skis or board, test the beacons and prepare for the epic week ahead.
Yesterday we had a beautiful bluebird day and as long as you could escape the weekend crowds the snow was very nice indeed. Off to the west the Sea of Japan was almost visible and the surrounding peaks revealed startling detail. A perfect reconnaissance for backcountry touring adventures!
As alluded to earlier we are still in for a perfect week of snow according to current predictions. Kicking things off, around half a meter is expected tonight. Another half meter for tomorrow night as well. It will be good. Light snow for the rest of the week combined with breaks of sunshine, most frequent on Wednesday morning. Another bout of heavy falls is then forecast for Thursday. Cold temperatures throughout.