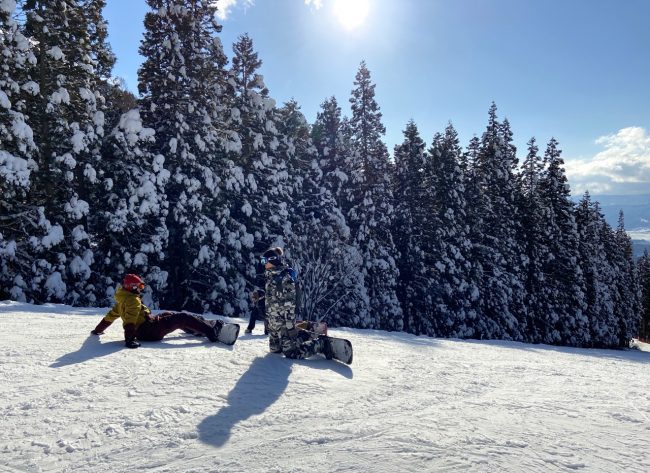 Week Day Skiing Nozawa
Waiting for Big Wednesday in Nozawa 
Was thinking we may wake up to heavy snow fall this morning but at this stage there is just scattered cloud above and even patches of blue skies. It was a crystal clear sky when went to bed last night and the stars were shining. With no cloud cover last night it is nice and cold this morning in town, the mercury on my doorstep showing -5 degrees. Looking at the charts and it is all going to change around lunch time and " Big Wednesday" should begin with heavy snow predicted all day and night, continuing lightly tomorrow. 
Week Day Skiing Nozawa 
Todays Snow Report from Nozawa Onsen 
Temperature up top: -5 degrees
New snow since close: 0 cm 
Base at top: 165 cm
Snow conditions:  Looking nice and frosty up top all groomed and ready to go 
Weather: Clear skies early and the snow show should start around lunch time and get heavy
Yesterday saw a perfect day in Nozawa with snow in the morning giving way to a sunny afternoon. We probably got about 10cm up top overall and there should still be some of that around this morning. Not many people about so the ones here had a ball and really enjoyed the beautiful conditions. It is going to get real Siberian cold here later today and tomorrow with windchill showing -30 degrees overnight. So don't forget the thermals and to grab a Hot Chocolate at Mt Dock Gondola Cafe on the way up in the Gondola. https://www.nozawaholidays.com/news/restaurant-day-mt-dock-gondola-cafe/
Hold on to your beanies it is going to be an interesting 24 Hours in Nozawa. Who can guess where this shot was taken?