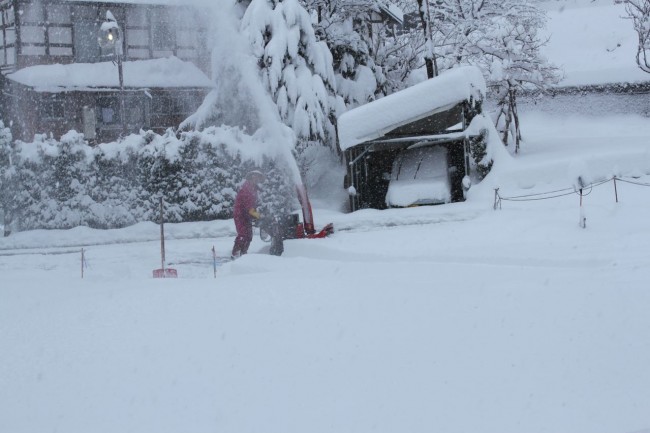 Base up top: 120 cm          Temperature; -8 Degrees
Base at bottom; 50cm
New Snow: 75cm
Over 75cm of fresh snow has fallen in Nozawa in the last 24 Hours. Yesterday was the game changer and winter has well and truly arrived. We had a clear driveway yesterday morning now we need to dig a path just to get to the road.
We were a little unprepared with the shovels and long boots still in storage! But they are working overtime now to clear the amazing amount of snow.
This dump is more like one that we have mid season and the few that have taken the chance to come up early will be well rewarded with some deep powder runs and no crowds.
Yesterday I drove a few of the lift ticket ladies to the Karasawa office and nearly got stuck in the rice paddies on the lower slopes in the mud. Today there is 60cm of fresh snow and no way you would get a car up there. They were preparing the lifts there this morning and plan to open tomorrow!
Still dumping here now and reports are for more on the way with the occasional glimpse of sunshine. The resort has opened Paradise Course and Yunomine today and think will open even more tomorrow. So a great time to be in Nozawa if you still have your skis in storage better pull them out and get up here!