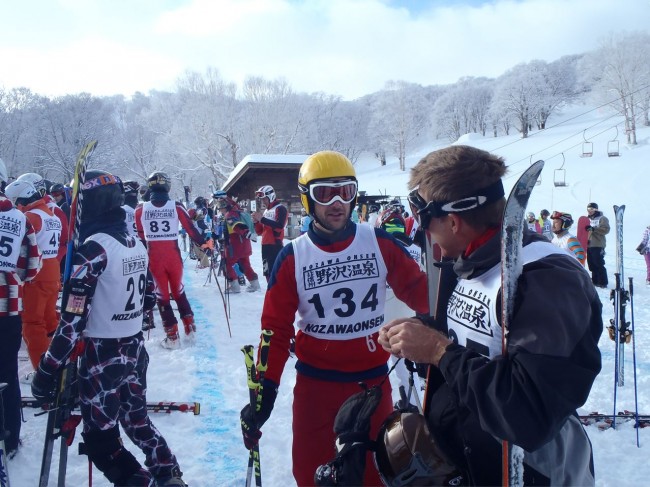 Base up top: 360 cm           Temperature; -2 Degrees
Base at bottom; 230 cm
New Snow: 1 cm               Weather; Beautiful
What a perfect day in Nozawa. Great conditions for the annual Downhill and GS races today.
Was an early start for the competitors getting on the gondola at about 7:30 this morning. Greeted by very suitable race conditions with clear skies and an icy track.
The speeds were fast and so were the skintight suits! Lots of fun and smiles from all those involved. Eventual winner of the downhill was home town favourite Katzuyuki Kono, he is more at home on skis than he is walking! Our own Gab Sutter from Switzerland also put in a great showing and grabbed 2nd in the Giant Slalom.
On the slopes for everyone else it was a beautiful day with clear skies and the snow condition was sublime. Started to get a little slushy towards the bottom later but still nice.
If the forecast comes thru we are in for some serious snow fall over the next few days with over 50cm forecast maybe more! So happy days in Nozawa Onsen at the moment.
Hard to believe it has been a whole year since the devastating quake and tsunami off the coast of Tohoku. It was a crazy and sad time with so many people losing their lives and homes.
The recovery effort was nothing short of inspirational. The way the people of the affected area and all of Japan came together was amazing. The situation has improved but is far from over, our thoughts are with those still rebuilding. Stay strong Japan.
One of our guests Nigel McCarter just recently went to Tohoku for some volunteer work here is what he wrote;
"Volunteers always welcome, can find themselves doing anything from cleaning ditches to photographs.Accommodation is basic (two tsunami damaged houses – one has no electricity) you need a sleeping bag and a pillowcase, though there are masses of futons; hospitality wonderful, and actually great fun."
This is the guys they went with not just mud website