From Carver Ski to Powder Ski – How to choose the Right One?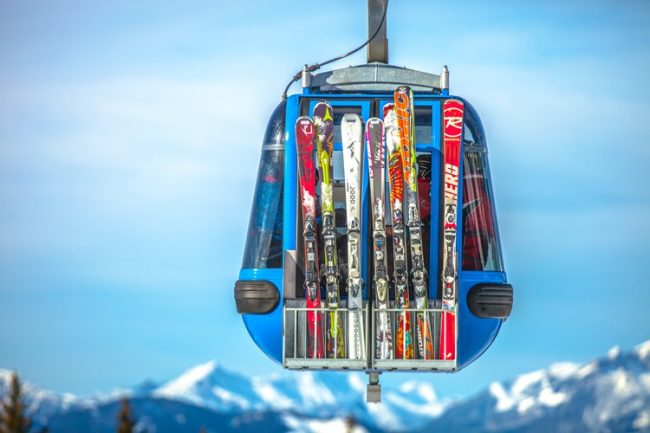 Many of you have probably been using the same ski for years or renting the same style of ski every time.
Have you ever wondered why there is so many types of Skis dotted around the Ski shop?
What are the differences between the standard, premium and demo skis besides the increase in price?
Many people who have tried to buy skis or even rent ask the question what is the difference between the options? The information you receive can be confusing and overwhelming. Once you get a grasp of the idea between each ski category, the manufacturer's stay pretty consistent year to year.
So what is a Powder Ski?
To get and understanding of what a Powder Ski is and what the difference is, let's break it down for you into a few categories.
Carver Skis

– or 'New carver Skis' for those who are still using there long straight skinny skis, are recreational descendants of slalom and GS race skis. Generally the most popular type of Ski you will rent. Designed primarily for on piste groomed runs.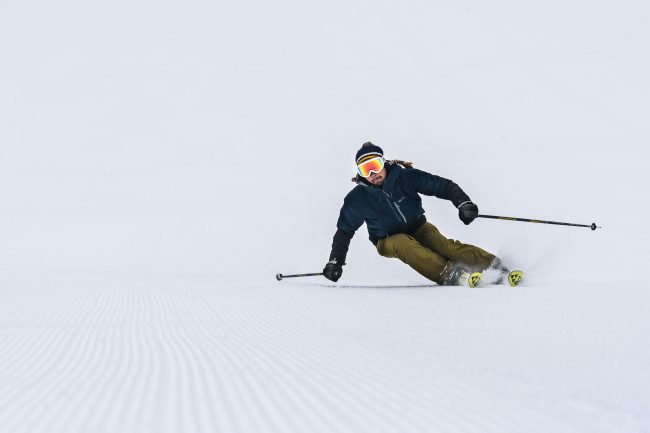 All Mountain

– Over the years the term 'All Mountain' has grown in popularity and at times can be misleading. All Mountain Skis can be a slightly modified Carver ski. Infused with 'Rocker' technology (where the ski is bent up giving less contact to the snow). Essentially an All Mountain can be any Ski you like as long as it works for you in any terrain and snow condition. For those who want to explore a bit more rather than blazing down the groomed runs then this category should work for you.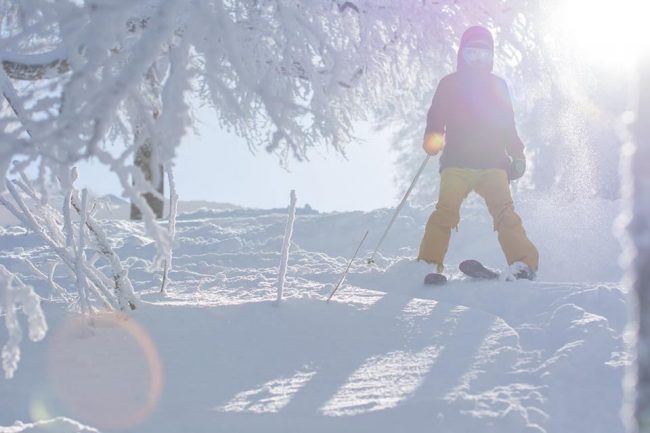 Powder Ski
Freeride –

Now we have entered into the Expert category. A Big Mountain/Freeride Ski is technically a cross between a Powder Ski and an old school race Ski. These are

built to remain steady at high speed but made wider to improve handling in variable and soft snow conditions.
Powder – Powder Skis

 are designed for deep days. Big, wide, fat Skis primarily focused on manoeuvrability and floatation in soft snow. Powder Skis also have a range of different categories to suit changing snow conditions, skiers ability and mountain terrain. This can vary from big, wide, full rocker, soft skis bouncing around in waist deep snow to stiff and straight skis blasting down in fresh conditions. Powder Skis are constantly progressing in design. Spend your time trying out a few different styles to see how they work in each snow condition and what works for you.
Powder Skiing in Japan
So now with an understanding of some different Ski categories you may be wondering what Ski to bring or rent in Japan?
The answer is – choosing a ski really depends on what you're looking for. Trying a Powder Ski is fine but don't be discouraged when it doesn't work for you on the groomers. Besides choosing a ski for your ability the most important factor is choosing the right Ski depending on snow condition. Japan is well known for its abundance of waist deep powder days and trying to ski in that with your rented carve skis can be very time consuming and exhausting.
There is nothing worse than sinking into the Powder snow as everyone floats past you with ease.
Why not take a Powder lesson with one of our Instructors to give you a head start in your Japanese Ski experience.
Talk to one of our Professional Ski Technicians who are always on hand to give you the best possible recommendations in what Ski is suited for current conditions. We are here to help and look forward to showing you our Rental Range. Head to the link to book your gear; Nozawa Onsen Ski Rental