Family Ski Holiday Easter Japan
Why Nozawa is Best for a Family Skiing Holiday Over Easter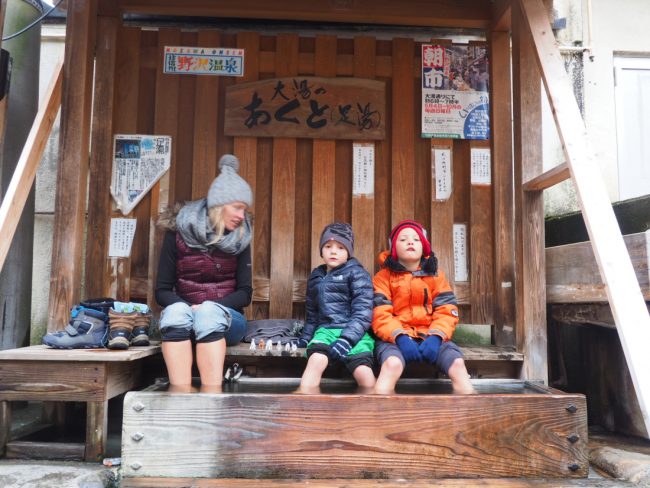 2019 sees three events coincide to allow for the perfect Japan trip with your family these Easter holidays. First, the snow has been plentiful and Nozawa still has a base of 275cm (at the end of March) which will see the lifts spinning until May 5. This sort of base is never seen in Australia even in peak season!
Second, cherry blossom season is hitting Nagano with the sakura in full bloom between April 15 and 23, lining up with Australian Easter holiday dates.
Finally, Easter is a little later this year which brings it closer to ANZAC day. Good Friday is falling on April 19, with Easter Monday on April 22, and then ANZAC day on Thursday April 25. With all these public holidays lining up you could get a 7 day holiday in Japan by only taking 2 days off from work! Queensland School Holidays start April 5th in just a few days while NSW holidays begin from April 12th.
Coincidence? Maybe. Time for a cheap Japan ski holiday? Definitely! All this and there is literally no one here so Nozawa Onsen feels like a private ski resort for your family.
Family Ski Holiday Easter Japan
Here's why Nozawa Onsen is the perfect destination for a family skiing holiday this Easter:
Great deals on accommodation and more
In April, Nozawa Holidays offers 20% off all accommodation so it's a great time for an affordable ski holiday. Our accommodation is ideally located close to both the town and the chairlifts, usually with less than a 10 minute walk to get to either. Nozawa is a small village so you won't find yourself on long walks with tired kids, or struggling with public transport to get from one end of the village to the other. Lift passes are also cheap in April, at just 3,700yen for adults and 1,700yen for kids per day. If you're planning on skiing for longer then it might be worthwhile getting the "After March Season Pass" that allows unlimited skiing at 32,000 yen for adults and 20,000 yen for kids. Seniors over 60 also get discounted rates so it might be worth bringing the grandparents as well!
Spring Japan Family Ski Holiday Deal 
7 Nights Stay based on Japanese Style Tatami Room with Share Bathroom staying at the popular Kaiya Nozawa or other great lodges too. Includes:
Healthy Breakfast Included Daily
5 Days Lift Passes
Use of all the Village Hot springs
All from just 53,500 yen per person Adults (Approximately $AUD 669 at current rates) x 2
Children are less than half price from just 26,000 Yen (Approximately $AUD 325 at current rates) x 2
Total = 159,000 Yen or Approximately $AUD1989 at current rates.
You can lock it in in $AUD if you pay in full now too – subject to availability. Be the first 3 families to book and the kids get Free Ski Rental. Just use the promo code AprilFree. We can also tailor a package to suit your family.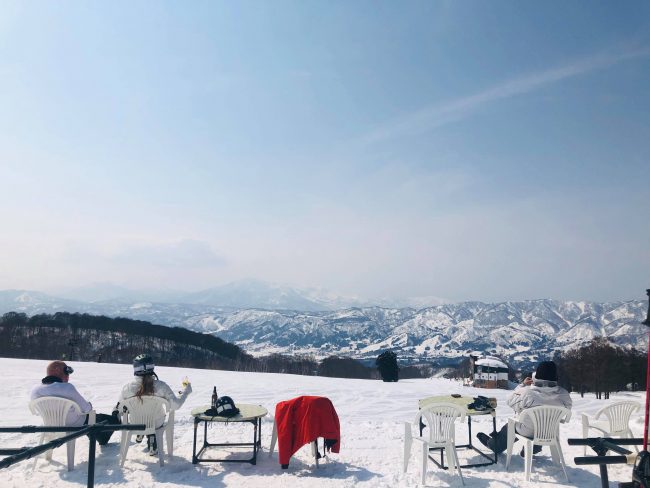 Spring snow conditions & weather
There's plenty of time to enjoy the snow yet, but the crowds have disappeared so it's like having your own private ski resort! The temperatures are much warmer in April with more sunny spring days so it's an ideal time to introduce little ones to the snow without the tears from getting cold. As the days are warming up, the snow becomes soft and forgiving so beginners will gain confidence, while more advanced riders will love the park or can get up early for firm and fast runs on the groomers. Lessons are still running and there are some great discounts to be had with both lessons and rentals so book them in with Nozawa Holidays or with the Nozawa Ski School.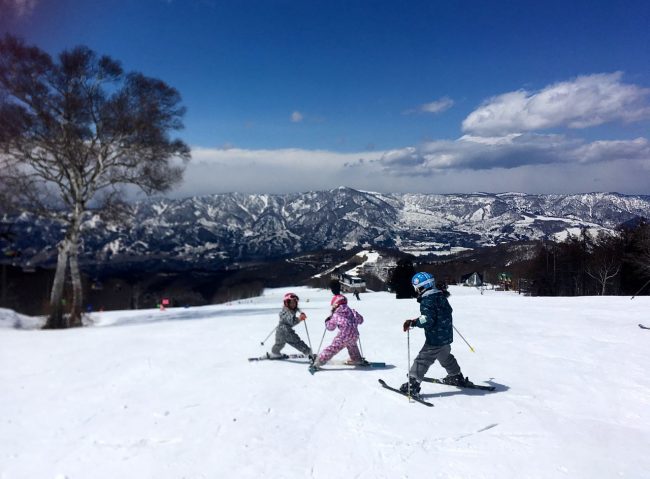 Terrain for all abilities
As Nozawa's terrain consists of 40% beginner runs it's a fantastic place to introduce the whole family to skiing or snowboarding. The runs are wide and long, and the beginner areas aren't limited to the bottom of the mountain. Some of the best mellow runs are accessed from the top of the Nagasaka Gondola so the whole family can enjoy the fantastic views from the top.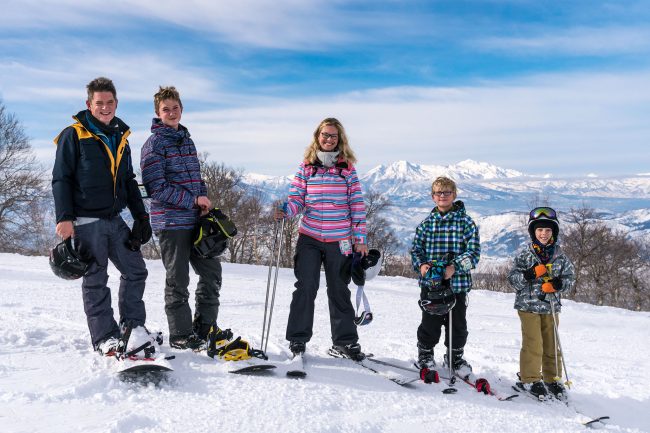 Introduce your kids to real Japanese culture
Coming to Nozawa Onsen is much more than a skiing holiday. The village dates back to the 8th century and retains a traditional feel with beautiful shrines, hot spring baths and Edo period architecture. Nozawa is a year-round living, breathing town where you'll witness the locals going to the onsen to bathe, to the shrines to pray, farming the land and going out with their families. It is this immersion in true Japanese culture that makes Nozawa so charming and can be very special for people to witness and great for kids to learn about.
Food for the fussiest of eaters
We know kids can be hard to please when it comes to meal times. Luckily Nozawa has over 30 different restaurants in town and around a dozen on the mountain (read about them in the free restaurant guide). Nozawa has a great mix of options including traditional Japanese meals like ramen, sushi and soba so your kids can try something new. It also has kid-friendly options like pizza, pasta, Mexican and burgers, plus there's always ice cream and crepes for dessert! The good thing about coming in April is that the village is so quiet that you can get into any restaurant without a problem.
Family Ski Holiday Easter Japan – Family friendly things to do
Spring is a great time to get the kids out and about for some activities. Nozawa is a beautiful village to walk around with lots to see and the local tourist office has created a stamp book to encourage people to find interesting spots. Much like a scavenger hunt, kids (and adults) with the stamp book need to go around to each of the 13 onsen in town and then receive a free gift.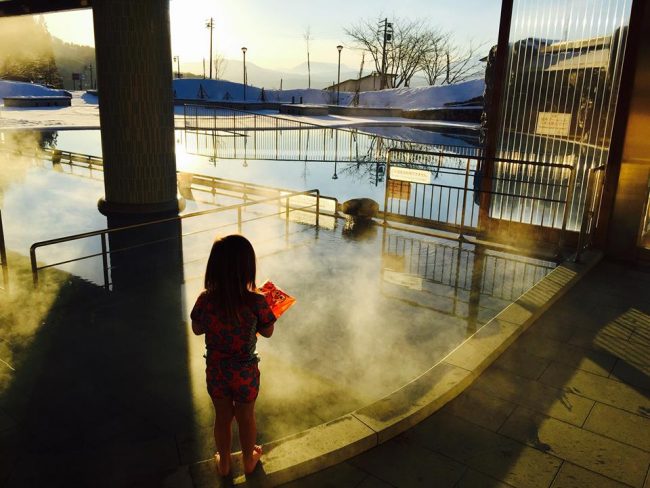 The Sparena spa complex is another activity for the family with a combination of indoor onsens (separate genders) and outdoor baths (all genders together wearing your swimming costume) with great views of the mountains. Highly recommended at sunset, followed by pizza and drinks on the deck.
If your family is into history or just skiing in general, then you'll have to check out the Japan Ski Museum. For the equivalent of just $4 for adults or $2 for kids you can learn about the history of skiing in Japan and see an amazing collection of skis through the ages, snow shoes and 1998 Nagano Winter Olympics paraphernalia.
Here is a list of 10 Great things to do with the family in Nozawa Onsen Family Friendly Ski Nozawa Onsen Japan
Family Ski Holiday Easter Japan – Cherry Blossoms are in Bloom
With cherry blossom season in full swing over Easter, you'll see plenty of beautiful flowers around town. However the best place to see them is down in Iiyama, just a 25 minute bus ride from Nozawa. Take a walk through Iiyama's Castle Ruins Park and see the blossoms dotted around the old entry gates and stone walls that have stood for hundreds of years.
Finally, what better activity to do than an Easter egg hunt in Japan? Or even better – cook your own Easter eggs in the special hot springs! Now that's an Easter holiday the family will never forget.