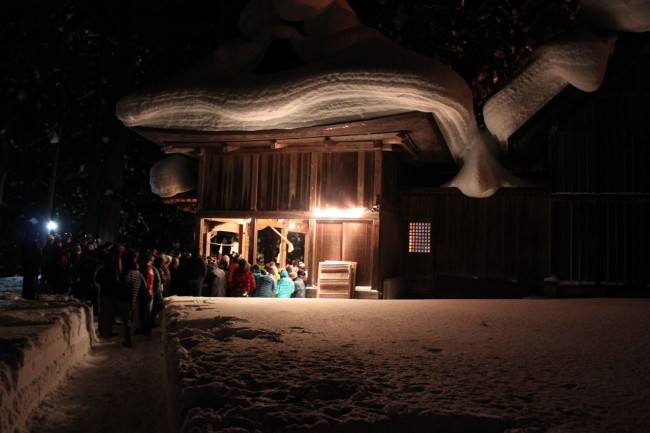 Base up top: 235 cm                  Temperature; -4 Degrees
Base at bottom; 160 cm
New Snow: 0 cm
We celebrated the coming of the New Year in style in Nozawa Onsen. The bars and restaurants were pretty packed early in the night then everyone made their way to either the Shrine or Nagasaka Slopes for the fireworks. Two very different experiences, but both unique.
The bell at the Shrine was rung 108 times and the village elders handed out New Years blessings or omomori, with everyone making a wish for a good year ahead.
On the snow front no fresh snow to report overnight but it was really cold while moving around the streets last night so the snow up top should be in good condition this morning. Fairly blue skies outside at the moment so looking like a beautiful first day of the year here in Nozawa. But forecasts suggest that will soon change with a good dump expected from tonight.
Yesterday was a terrific day on the slopes with fresh snow and the sun coming out around lunchtime to deliver awesome conditions for the New Years crowds, which were not as bad as last year by all reports.
The outlook is for a snow then sun then snow cycle ahead, which is always good to see.
We would like to wish everyone a Happy New Year for you and yours and a safe and enjoyable year ahead. Look forward to seeing you knee deep in some powder or neck deep in an Onsen in Nozawa in 2012. Thanks for your ongoing support.   Akemashite omedetou gozaimasu from everyone in Nozawa Onsen.