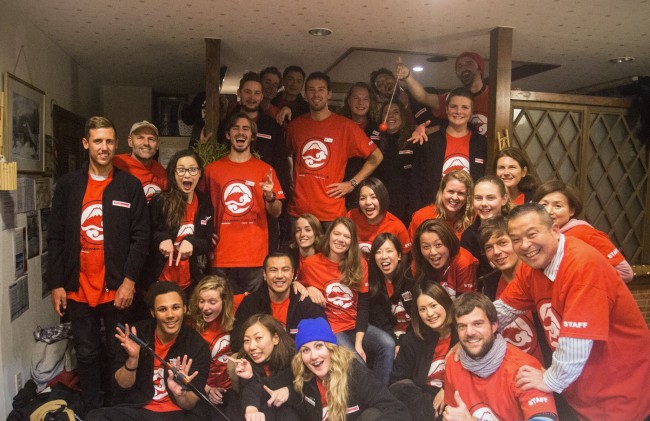 Nozawa Snow Holidays has been established in the traditional ski town of Nozawa Onsen for over 20 Years. We have a great international team taking care of our guests from all over the world. We run accommodation, ski school, rental shop, café and tours. Looking for genki and hard working people to join our fun team in this beautiful Village.
Job Particulars
Looking for staff to fill the following roles
Lodge Managers
Lodge assistants
Cleaners
Rental Staff
Café Staff
Ski and Snowboard Instructors
Drivers
Need to be happy, organized and enjoy taking care of people. Also be able to shovel snow we get a lot of it!
Pay varies depending on the position but good rates and benefits.
Preference is given to Japanese Speakers and people with Working Holiday Visa for Japan.
Job Benefits
Rosters are generally for 6 days a week of 7 hours a day with shifts varying but total of 42 hours per week.
Season pass is subsidized 50% by the company
We provide Staff Accommodation in a Japanese style Lodge near the slopes
Discounts on ski lessons, Rentals ,Tours and other things we run
Breakfast provided daily, Lunch and Dinner are up to you to cook or eat in one of the great, good value restaurants in the village
Staff Dinners and get together once a month
Chance to earn extra income if keen to pick up some extra work
We are very busy during the season so looking for hard working fun people to join our team. If you have a passion for Hospitality and the snow life then please send us your resume and a photo to team@nozawaholidays.com
日本語が話せるスタッフを募集しています。
期間:12月中旬から3月中旬(もしくは長期)
仕事内容:掃除、調理、ベッドメイキング、雪かきなど
募集要項:元気、時間に正確でよく働く方
海外からのゲストやスタッフと楽しく働ける方
英語が話せるとなお良し(話せなくても大丈夫です)
興味のある方は、下記までメールと写真を送ってください。
team@nozawaholidays.com