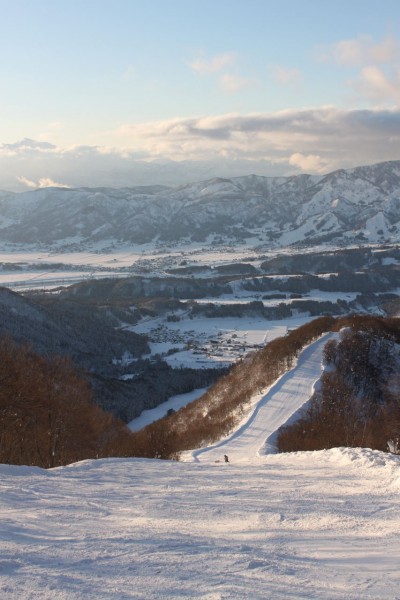 Base up top: 280 cm                  Temperature; -3 Degrees
Base at bottom; 185 cm
New Snow: 0 cm
Yesterday was the day over 300cm base, 30cm of fresh, sun was out and the slopes were empty! I got the last Gondola up for the day at 3:30pm and when arrived at the top there were only a handful of people hanging around Yamabiko. Just took the one run down Skyline home and had it to myself not another soul to be seen and with the sun set over Myoko it was superb!
Today there was a bit of light snow falling in the Village this morning but the sun is out and blue skies are covering the resort now. It was really cold last night with the clear skies any heat that had been produced during the day quickly escaped into the atmosphere. At about 9pm it was -8 degrees just outside.
Probably made for an icy start today on the groomers but the snow quality is excellent and there should still be a few nice bits of powder around for the taking with very few people again today. That will all change tomorrow with a decent crowd expected for the Dosojin Fire Festival weekend. The main event will start at the bottom of the Village at about 7:30pm on Sunday night but from today there will be action around town as the trees to build the shrine are dragged through the Village. It is always a lot of fun with lots of cheering and sake flowing thru the streets. Be sure to check it out.