Maybe you're new to the snow or have tried skiing or snowboarding a few times. Or maybe you have a family, partner or friends who you'd like to introduce to the wonderful world of snow.

You've probably heard that Japan's awesome powder snow is great for beginners (it is!) Now you just need to find the perfect resort with plenty of beginner-friendly terrain.
You're in luck.
Nozawa Onsen is one of the most beginner friendly resorts in Japan, with 40% of its terrain ideally suited to learners (trail map here). More than that, Nozawa has wide runs with plenty of room to get the hang of things. Plus, not all of the beginner terrain is located at the bottom of the mountain. This means that you can catch a gondola and get the full mountain experience while still staying safe on the hill.
Nozawa certainly is a haven for beginner skiers and boarders. We've created this handy beginner's guide to Nozawa terrain so that you can get the most out of your trip.
Hikage base area – beginner's guide to Nozawa terrain
The Hikage area has everything you need to start into the world of skiing and snowboarding. This is where the Nozawa Ski School operates from, as well as the Yumin Day Care Center and the Naski room, which is a free children's playroom. The Hikage base area has a dedicated on-snow area with a magic carpet, sledding area and some inflatables for kids. The main run here is short and mellow so it's great for learning the ropes.
You can get to the Hikage area via Yu Road or by catching snowmobile transport from the bottom of the Nagasaka gondola. It also has a bunch of restaurants and cafes to keep you fuelled up.
Up the gondola – beginner's guide to Nozawa terrain
If you've mastered the basics and want some wide open green runs to practice on, you can take either the Hikage or Nagasaka gondola up higher. The views are awesome and it's a great adventure to head higher up. If you take the Hikage gondola you can practice on the Paradise slope – a common favourite as it has plenty of space and enough pitch to feel the flow of skiing or snowboarding. This run has a dedicated chairlift so you can keep lapping it as much as you like. A little higher up, accessible from the top of the Nagasaka gondola, is the Uenotaira slope. This is a very mellow pitch that is safe for kids and those lacking confidence. This also has a dedicated chairlift for racking up mileage.
There is an option to take a green run all the way to the bottom of the Hikage gondola again. It's a long, winding trail called Rinkan (or Forest Trail). However, snowboarders, in particular, can find it difficult as it is quite narrow and flat in spots. If in doubt, you can always hop on the gondola back down!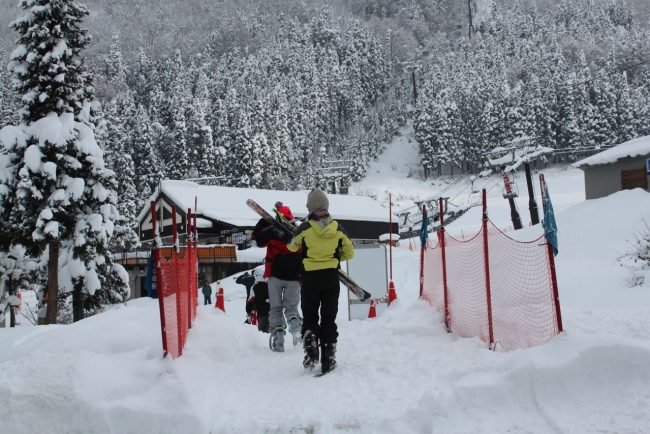 Nagasaka & Karasawa areas – beginner's guide to Nozawa terrain

These are two areas that are perfect for beginners. They each have one run and one chairlift. Both areas are nice and wide for learning your first turns and can often be quieter than other Nozawa runs if you need some space. Nagasaka and Karasawa are both located on the lower mountain so you're not likely to get lost and wind up on a black run. Winner! If you're keen to get some extra laps in, Nagasaka is where you can do night skiing too.
If you'd like to have an instructor teach you how to ski or snowboard and be shown the best terrain for your ability, book lessons with Nozawa Holidays here.