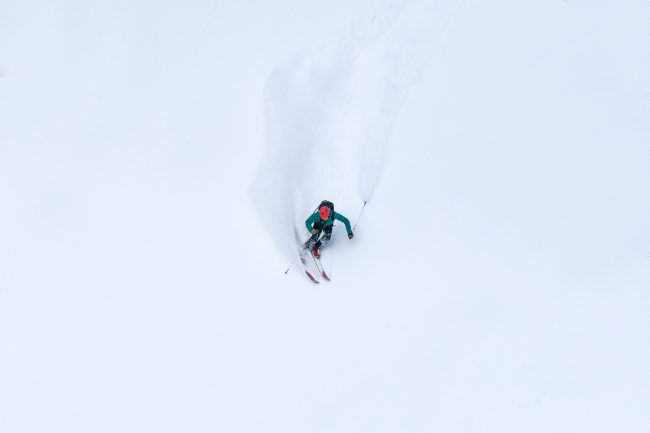 Making Tracks Nozawa Japan –  Feb 2019
Track – a continuous line, series of marks, left by person, animal or thing passing along…
Birds eye view of Nozawa Holidays Ski Instructor Daniel from Austria carving a nice line through the famous Nozawa Powder. People often ask when is the best time to visit Nozawa to make the most of the snow conditions. The Answer really depends on what you are looking for. Here is a summary of month by month over the Ski season in Nozawa and some information on what to expect each month.
Snow Condition Nozawa
Making Tracks Nozawa Japan
When is the best time for Making Tracks in Nozawa?
December – The season kicks off and the base begins to build. We sometimes get huge dumps but it is not your powder time. It is however amazing to see the village transform into winter and experience a "White Christmas" there is something special about that.
January – This is traditionally known as our biggest snow month of the season and locals often say if you get thru January on the snow front you are pretty safe from there on in. This past season however February proved to be our biggest month. January is also a busy time in the village with school holidays and the famous Fire Festival right in the middle
February – this tends to be the months the hard core powder hounds come knocking on our door. The base is there by then and all the trees and shrubs have been buried under a few meters of the precious white gold. Temps are cold and we still get plenty of fresh snow falls. Less people too except the weekends we do get quite a few local visitors from Tokyo and surrounds.
Spring Skiing Nozawa Japan
March
– make no mistake this is our favourite month. All the base is there, we still get some good dumps of fresh snow but also lots of nice sunny days and there is almost no one here to share it with. Here is a link to more info on March Magic
March Magic Nozawa Onsen Japan
April – This is pretty much spring skiing but the past few years as the winter season feels like it is shifting later we have had some amazing April days in the mountains with 30cm of fresh and literally no one about. You can also get some T Shirt days on the hill which are fantastic.
May – The Nozawa Onsen Ski Resort usually stays open until May 6th so you can sneak in a slide with the aid of a ski lift right up until then. It is very much Spring skiing but just cool to be sliding for 5 months of the year.