Nozawa Onsen Snow Report 29th December 2018
Fresh Snow Continues To Fall and Fall…
As mentioned yesterday, we had what we might call a late start to the season. That's all totally forgotten about now though! After the 35cm fall we awoke to yesterday, followed by the 30cm during the day, it has snowed some more. Right now, as of 9 am today, it continues to snow heavily, both on the mountain and in the village. Winter has certainly returned ladies and gents!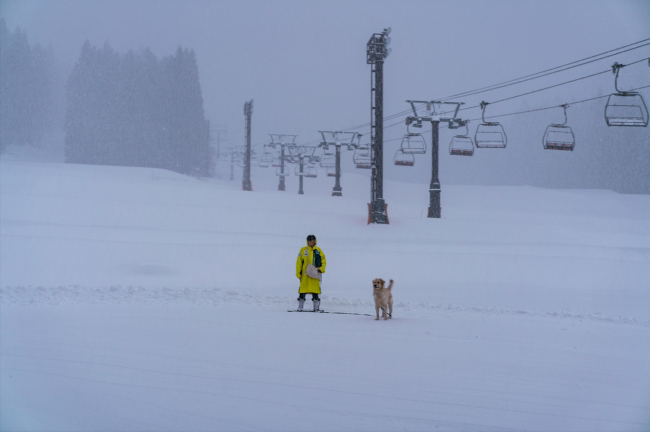 So this is what we're looking at this morning;
Temp at top; -10C
New Snow Since Close; 15cm
Base at Top; 150cm
Weather; Heavy snow (9 am)
We're seeing some serious snow now. The base up top is building quickly and the snow shovels are moving furiously in the village. Both of which conspire to keep us preoccupied with today, however, let's look beyond for a second. The forecast shows snowfall of some degree on each day of the week to come. This far out, Tuesday and Wednesday are shaping up to be epic.
Winter is getting serious in Nozawa Onsen!
Slopes open today in Nozawa;
Yamabiko A course (Intermediate)
Yamabiko B course (Intermediate)
Yamabiko C course (Intermediate)
Yamabiko D course (Intermediate)
Yamabiko E course (Intermediate)
Kokenashi A and B
Bunabayashi course (Beginner)
Uenotaira (Beginner)
Yunmine A and B
Paradise ( Beginner)
Hikage (Beginner)
Skyline (Intermediate)
Operating ski lifts;
Nagasaka Gondola lift 8:40 ~ 15:30 (outbound line final 16:00)
Hikage Gondola
Hikage Lifts
Yamabiko 4 Lift 9:00 ~ 15:30
Yamabiko 2nd 4 lift 8:55 ~ 15:40
Uenotaira Lift 9:00~15:40
Paradise Lift
Nagasaka Triple
Shinyu Double
Yu Road
Skyline Lift
Many people visiting Nozawa Onsen (particularly during January) are looking to enhance their stay with a ski or snowboard lesson. Our team of instructors are the best in town and keen to share the mountain with you. However, to get the most out of your stay, check out our Lessons Page so you can be confident you know what to expect and what's expected of you.
It's shaping up to be an amazing few months here in Nozawa. We can't wait to share the winter with you!