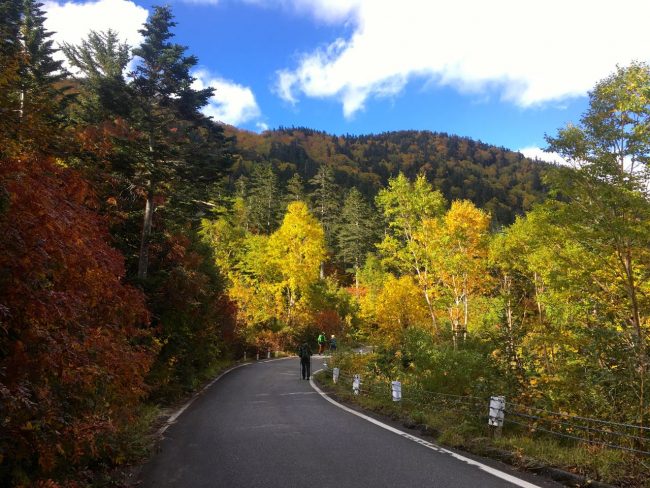 Autumn Hiking Nagano Japan
Japan and its mountains are now firmly on the radar for the Winter months and amazing powder skiing,  Nozawa Onsen included. But the mountains are there all year round believe it or not and can be just as beautiful and breathe taking all year round especially in Autumn with the "Koyo" or leaves changing colour. We just got back from a spectacular hike at nearby Norikura Highlands and climbed the highest peak in the region Mt Kengamine sitting at a respectable 3026 meters above Sea Level.
Trip Report – Autumn Hiking Nagano Japan
Norikuradake is on the border of Nagano and Gifu prefectures, it is the 19th highest peak in Japan and a popular hiking destination for Japanese hikers but is yet to be discovered much by overseas guests. Most of the hikers up there the day we went were groups of elderly Japanese and they were loving the great weather and amazing views with the leaves below changing colours with amazing mix of red, yellow, orange and green foliage across the valley floor.
Getting there from Nozawa Onsen – Autumn Hiking Nagano Japan
Drive or Train to Matsumoto City a beautiful place to visit also with the Matsumoto Castle and historical streets and shops. It is about 1 hour 40 minutes from Nozawa Onsen
Car is the easiest way to get to Norikura Kogen your base for the hikes and takes a little over 1 hour. Public transport is also available with a combination of Train to Shima Shima Station and then Highland bus from there
From Norikura Kogen there are buses that take you up to different levels of the mountain. You can not access the whole way up in private cars. Japan often does this and it is a good thing for hikers and bikers not having to compete with cars. You can bus to the highest road in Japan at 2700m then can hike to the peak and back about 2 hours depending on speed.
We continued to hike all the way down thru the amazing colours to Norikura Kogen and saw all the waterfalls, streams, views and nature along the way which took about 5 hours with a few stops along the way.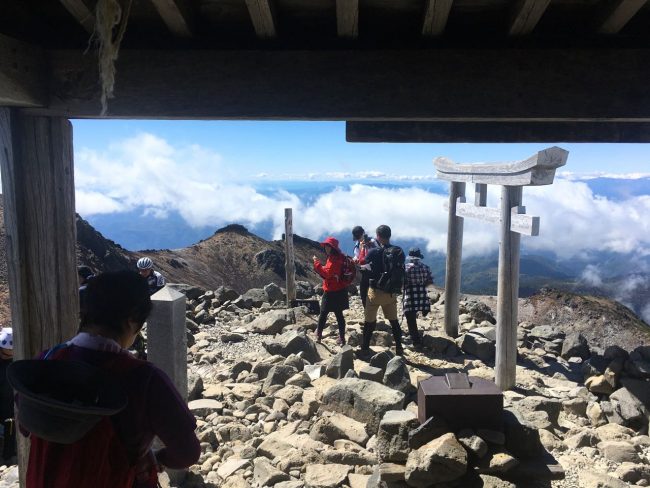 Autumn Hiking Nagano Japan – Places to stay
You can base your self in Nozawa Onsen and stay at Villa Nozawa or one of the self contained options like Nozawa House or Nozawa Central Apartments. Here is a link; Nozawa Onsen Properties
There are lots of great little hikes in and around Nozawa Onsen to enjoy and then you can take day trips fro there to explore other parts of Nagano and all it has to offer. One of the most amazing hikes is the Shinetsu Trail which originates just near Nozawa and is 80km long here is a link to details Hiking Nozawa Onsen Japan
Other awesome places to stay in Norikura Kogen are Raicho Lodge and North Star both awesome set ups  in the area. There is not a lot in Norikura at present and we struggled to get somewhere to eat at night with many local restaurants closing at 7pm so get in early or bring your own food to cook at the guest house. This little hamlet is still very sleepy but has some amazing potential for hiking, biking and they tell name the skiing is pretty good but told me not to tell too many people!
Autumn is the perfect time to visit the Mountains of Nagano and Japan. Temperatures are perfect, weather is generally good, there are not too many people about and the Koyo or Fall is amazing to witness. Definitely consider Japan for this time of year on top of your Winter skiing plans as it is a destination that will amaze in many ways.