Autumn Travel Nozawa Japan
Awesome Autumn Days in Nozawa
For better or worse our beautiful Autumn days in Nozawa are numbered. Wont be long until it is all covered under meters of the white fluffy stuff!
The colours at the moment in and around Nozawa are noting short of spectacular and with the cooler weather make for perfect Mountain Biking and Hiking conditions. Followed by a toasty Onsen and a cold beer by the fire it doesn't get much better, or does it? Winter and snow is coming…
For now check out more about the Green/Red Season in Nozawa and we hope to welcome you sometime at this special time of year to see the transition between the seasons and enjoy the beautiful colours.
https://www.nozawaholidays.com/summer-nozawa-green-season/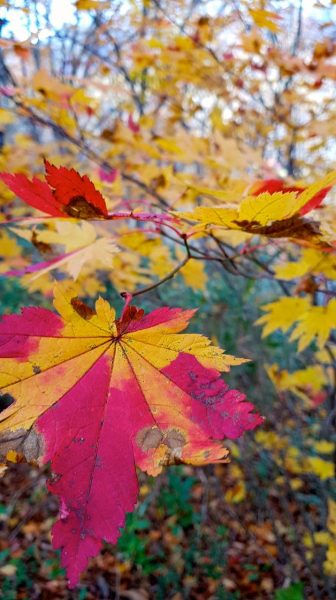 Autumn Travel Nozawa Japan – Biking
This is my favourite time of year to jump on a bike and explore the country side of Japan around Nozawa Onsen. Whether a Mountain Bike, Road Bike or a "Mama Chari" which is a ladies shopping bike, just get out there are get some miles under your pedals! https://www.nozawaholidays.com/nozawa-onsen-summer/mountain-bike-trip-nozawa-onsen-japan/
Lots of amazing views, little streams, glorious colours, tasty restaurants and cafes to visit and explore. With the cooler temps and lower humidity it is very comfortable on the bike.
Here is a link to the great MTB Week we are running next season and we can do the same at anytime and on any type of bike so grab some friends or family and come on up to Nozawa.
If bike is not your preferred mode of transport then can always hike or take the public transport
So many great hikes around Nozawa or just nearby and can reach amazing temples, view beautiful waterfalls, pass thru many small rural villages and really experience the true feeling of Japan