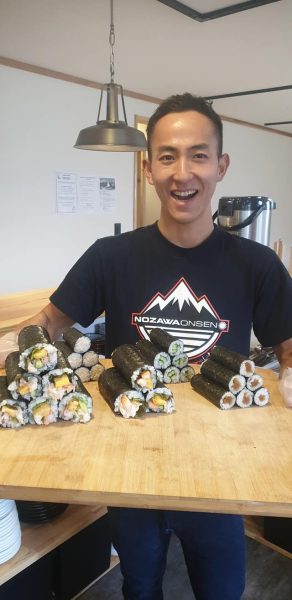 Sushi Nozawa Onsen Japan
Masa san has been working in Nozawa for a few years now and is the main Sushi maker for the Mt Dock Gondola Cafe located just below the main Nagasaka Gondola in Nozawa, Here are a few details for you on the art of Sushi Making.
In the Western world, rolled sushi is generically called 'sushi roll'. But in Japan, they have individual names depending on the types of sushi rolls. Firstly, there are different names based on the thickness of the roll.
Futomaki (太巻き) – thick (太) rolls (巻き) which are about 5cm in diameter and served as a long stick (about 10cm long) or sliced into 2.5cm thick pieces.
Hosomaki (細巻き) – thin (細) rolls (巻き) which are about 2.5cm in diameter and cut into 3-5cm long pieces.
If sushi rolls are wrapped with a roasted seaweed sheet, which is usually the case, it is called 'norimaki' (海苔巻き) as seaweed is 'nori' (海苔) in Japanese. But if the outside wrapping is a thin sheet of egg, then it is called 'kogane maki' (黄金巻き), meaning gold (黄金) rolls for its colour.
Sushi Nozawa Onsen Japan
In the case of hosomaki, sushi rolls are named differently depending on the ingredient in the centre. To name a few:
Tekka maki (鉄火巻き) – tuna (raw) roll.
Kappa maki (かっぱ巻き) – cucumber roll.
Natto maki (納豆巻き) – fermented soybean roll.
Negitoro maki (ねぎとろ巻き) –minced fatty tuna and chopped shallots (scallions) roll.
Check out the Nozawa Onsen Food Guide for more great places to east in Nozawa Onsen Nozawa Onsen Food and Drink Guide