April Skiing Nozawa Style
The good thing about a weather forecast throwing up a mixed bag is that, at some point, everyone gets what they want. Does that mean we'll get some more snow here in Nozawa Onsen before the season is done?
Tuesday 3rd of April
Temp at Top: 11℃
Weather: Mostly sunny
Base at top: 225cm
Base at Uenotaira station: 130cm
New snow since close: 0 cm
There's a bit of cloud about today but it's mostly shaping up like yesterday. The forecast for the top is nice and warm. For the village it's definitely time for t-shirts. However, tomorrow could bring something different. As you can see in the forecast (for the top of the mountain) below, it's predicted that something will fall from the sky. We are yet to learn what that will be exactly. It may depend upon whether you're at the bottom or top of the mountain. Since many of the bottom lifts are shut, it's probably going to be a good day to get to the top!
As you can see, the rest of the week is a mixed bag. However, that will surely change a few times before those days roll around. All we can do is hope that we squeeze out a few more centimetres of fresh stuff up on top of Mount Kenashi. It looks as though we might!
Of course, as of yesterday, many of the lifts and runs have shut. The upshot to that though is that lift prices have been heavily discounted for the late part of the season. Talking to people this morning at breakfast, none were complaining about the snow quality at the top. There's still some great skiing to be had up there and we're all still April skiing Nozawa Style!
Below shows which runs are open today.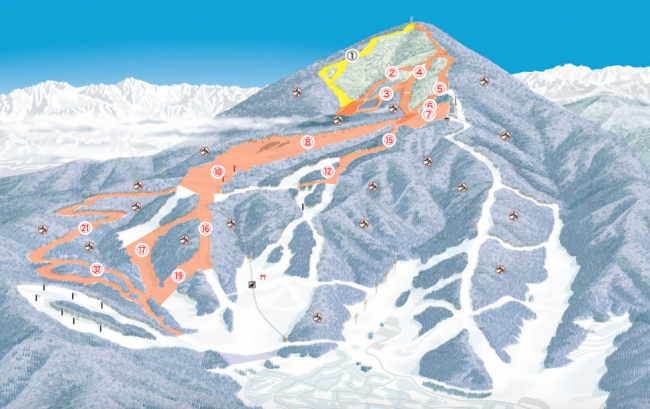 Spring Snow and Summer
There's still time and availability to come and enjoy some late season skiing here in Nozawa Onsen. Along with the lift prices being low there's also some great prices on quality accommodation too. Same goes for the remainder of the season and during the beautiful Green Season.
Be sure to check out all you can do in Nozawa Onsen when the weather turns warm. It's an equally magical place, that is for sure!