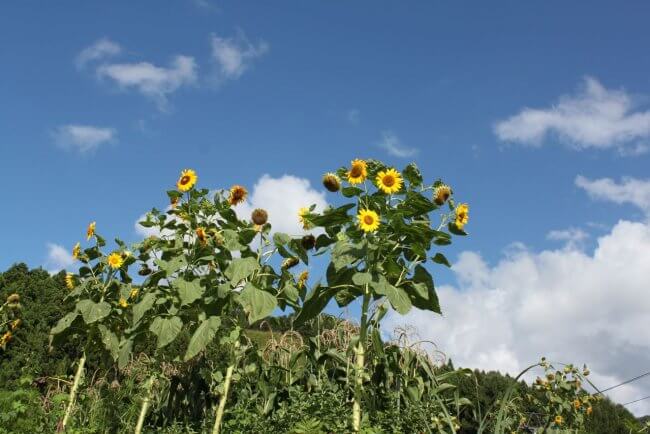 10 Things to do in Summer in Nozawa Onsen Activities 
Nozawa is already well on the adventure map for people over winter and we get skiers and boarders from all over the world visiting in the snowy months. However come the green season and Nozawa is still a fairly quiet farming village.
There are however lots of great activities and beautiful nature to be enjoyed in Nozawa year round and each year there seem to be more as the region is gradually getting discovered as a year round destination. Nozawa has 4 very distinctive Seasons, Winter, Spring, Summer and Autumn and all have a different feel and different aspects to enjoy.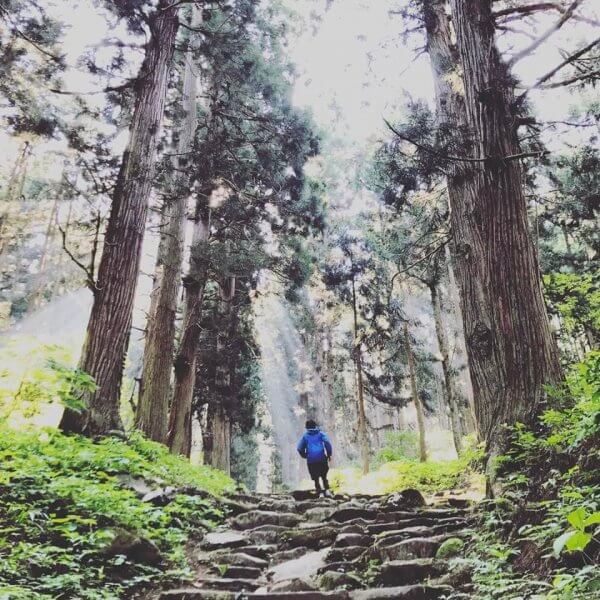 Hiking and Trail Running – Nozawa Onsen Summer Activities 
Get into the great outdoors and hit the mountains on foot Hiking or Trail Running. We have some beautiful trails rising up out of the village into the surrounding mountains. A few favourite hikes are one leaving from the North of the Village next to Shinyu Onsen that winds up the mountain via shrines and gives great views back over the village. Another great one is to grab a bike and ride around nearby Hokuryuko Lake to an amazing Soba Restaurant from there you can climb big stone steps up to a beautiful temple. If feeling "genki" you can walk the whole way from Nozawa Onsen. Ask the staff at Nozawa Holidays or the Tourist office for maps and information.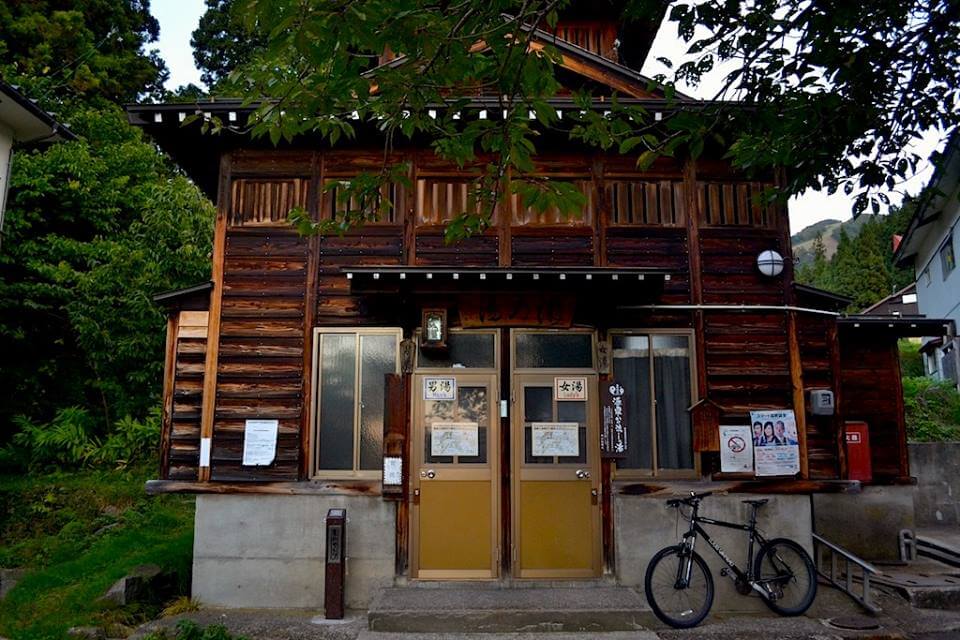 Mountain Biking and Cycling
The Resort and lots of the young crew in the village have been developing the Mountain Biking Scene in Nozawa for a number of years now and it is growing every year. We even get some visiting pros coming thru town from time to time and they love the terrain and the natural beauty of the area. From early July to late August you can put your bike on the main Nagasaka Gondola and ride to the top in style then cruise down on the road or thru the trails that have been purpose built. Here is a link to more details https://www.nozawaholidays.com/news/mountain-biking-japan-nozawa-onsen/
Cycling on Road bikes is also gaining in popularity in Nozawa and the surrounding area and there are some breathe taking rides to explore over the green months. The ride from Nozawa to Shiga Kogen is spectacular and you rarely see a car on the road, which is in great condition. It is only open from May to November and then closes with the heavy snow. Here is a link to info on the road bikes https://www.nozawaholidays.com/news/cycling-nozawa-onsen-nagano-japan/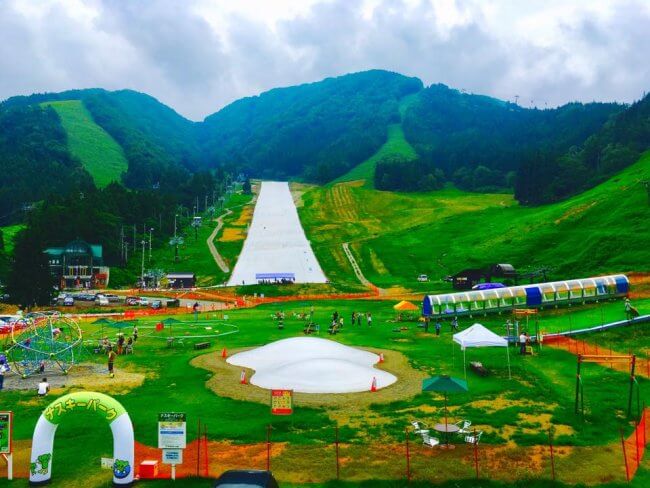 Summer Skiing and the Nozawa Onsen Sports Park.
Imagine that you can ski all year round in Nozawa! Well from this year it is a reality with the resort opening the new Summer Skiing slope. It is a good length 500m long and gives a very similar sensation as regular snow skiing. There is also the longest Zip Line in Japan and an awesome Kids Park to enjoy. All situated on the Hikage Bowl, pack a picnic lunch and make a day of it. Here is a link to details https://www.nozawaholidays.com/news/nozawa-onsen-sports-park-summer-skiing/
There is also the Olympic Park over the other side of the village near the Karasawa Slopes. It was built for the 1998 Olympics and home to a fantastic Cross Country Skiing Track in Winter. In summer it has lush and spectacular Soccer Fields, a large gym for training, tennis courts with mountain views and a Golf Driving range all nearby. There're also some excellent Golf Courses only a short drive away at Madarao and the Country Club near Iiyama at surprisingly good prices.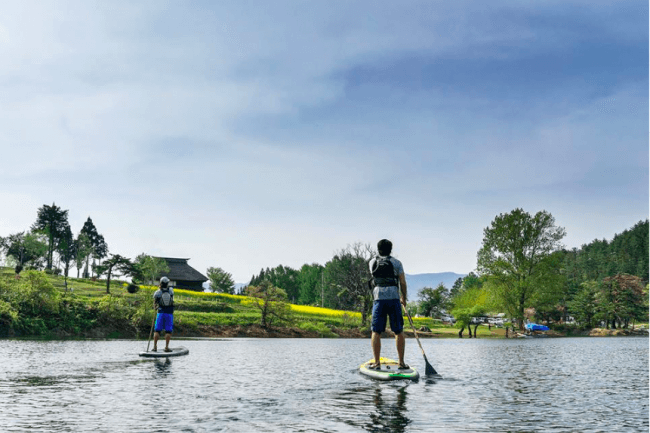 Paddle, glide or swim

On the nearby Chikuma river or one of the mountain lakes. Local lad Kenji Kono recently started Sup Paddle Board Tours on the river just below Nozawa. It is the longest river in Japan and very scenic also lots of fun riding the rapids and cruising on the flats. There is a company Powerdrive doing rafting and canoe tours down there too. Great way to cool off and get some exercise in the warmer months. https://www.nozawaholidays.com/news/super-sup-river-surfing-nozawa-onsen/
Explore the unique traditional village of Nozawa

Nozawa Onsen is a farming and onsen town that has evolved over centuries. It has an interesting history and lots of intriguing corners to discover and locals to meet. Visit the Ski or Cultural Museum, marvel at the locals cooking vegetables at the Ogama outdoor Onsen, wander thru the various temples and shrines scattered throughout the village, soak your feet in the foot onsen and enjoy the sunsets. It is a place where you can do a lot or nothing at all!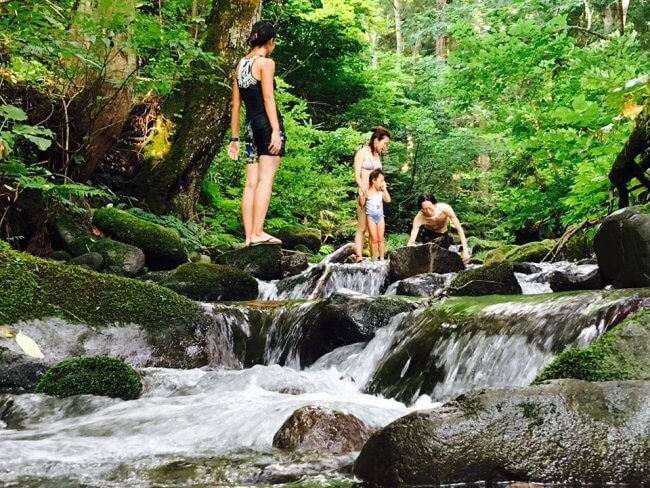 Hot Onsens and Cool Creeks – Take a dip!
Nozawa Onsen is naturally famous for its Onsens or Hot Springs and we have 13 free public onsens strategically located around the village all housed in traditional Japanese style bathhouses. They are the perfect way to end the day if have been out biking or hiking. Combine it with a dip in one of the cool mountain springs and your skin will never feel so alive. If a pool is more your speed we have the amazing Sparena Complex with an outside pool in Summer and Outdoor Onsen all year round.
Enjoy a Japanese Shiatsu Massage after at one of the practices in town and you will sleep like a log. Here is a link on the Onsen Etiquette https://www.nozawaholidays.com/news/onsen/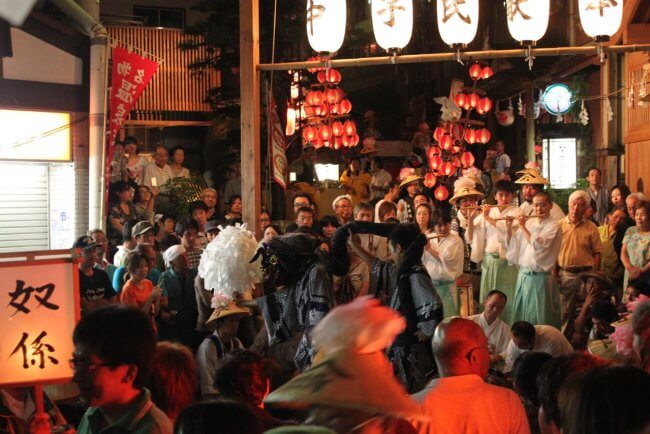 Festive times in Nozawa
Nozawa Onsen is very famous for the Fire Festival held on the 15th of January every year and it is truly a spectacular festival. However I prefer some of the Summer Festivals, which are more of a local affair. The Autumn Lantern Festival held over 2 days on the 8th and 9th of September is my favourite and there is a lot going on in the village. Here is a link https://www.nozawaholidays.com/news/autumn-lantern-festival-nozawa-onsen/
If you miss it there are a few very similar ones put on by the local areas before and after the main event. Another very cool food festival is the "Take no Ko"or baby bamboo festival that is on for most of June and the centre of town is transformed into a Night Market.
During the Summer months there is often a festival in Nozawa or a nearby village so just ask the Nozawa Holidays staff or at the Tourist Office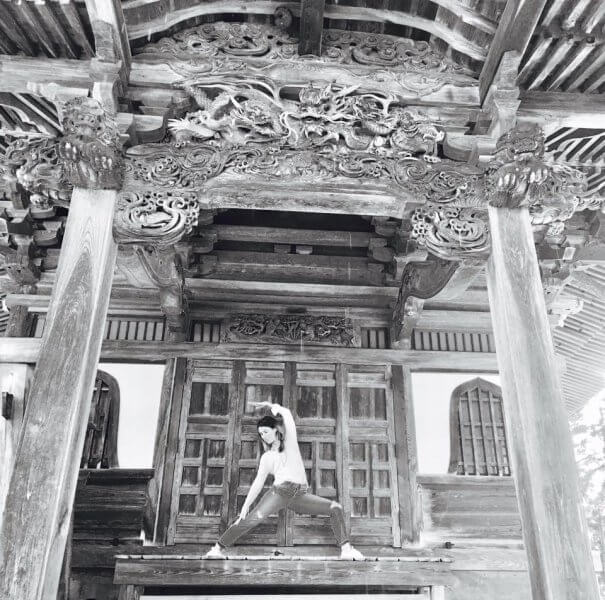 Retreats, Writing and Relaxing
In the Green Season outside of the Farming activity Nozawa can be pretty tranquil and a great mountain retreat to just come and unwind. You can visit anytime from May to November and get a great deal on accommodation usually half price or less at Nozawa Holidays properties. Can stay for a good length of time and maybe write a book, work on your art or do some Yoga. Can also take cooking, ikebana and basket weaving classes. We have a Yoga Retreat that runs the whole month of October and a great way to enjoy the area and learn more about your inner self. Here is a link https://www.nozawaholidays.com/yoga-retreat/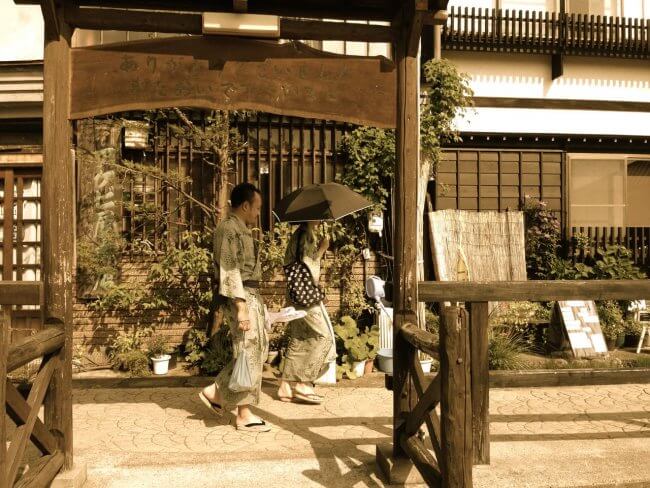 Road Trip- Nozawa Onsen Summer Activities

– Get on a bike, bus, train or foot and explore the amazing landscape and interesting little villages nearby Nozawa Onsen. Here are a few suggestions
– Visit nearby Obuse and check out the art galleries and Sake Brewery
– Take a trip to Nagano and explore the Zenkoji Temple and have lunch at the famous Gohonjin Restaurant
– Head across to Lake Nojiri and have a swim or paddle and check out the International Village. Visit the nearby St Cousair Winery
Many more places to go to like the Kappa Sushi, Hirano Cake Store and Temples in Iiyama. Sakai Mura, Farmus at Kijimadaira, Maguse outdoor Onsen and more…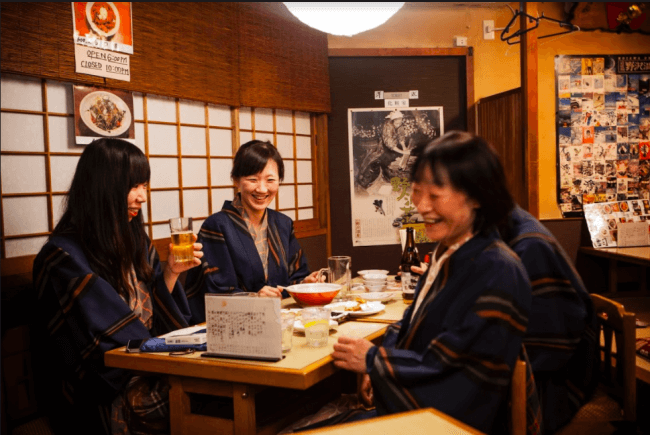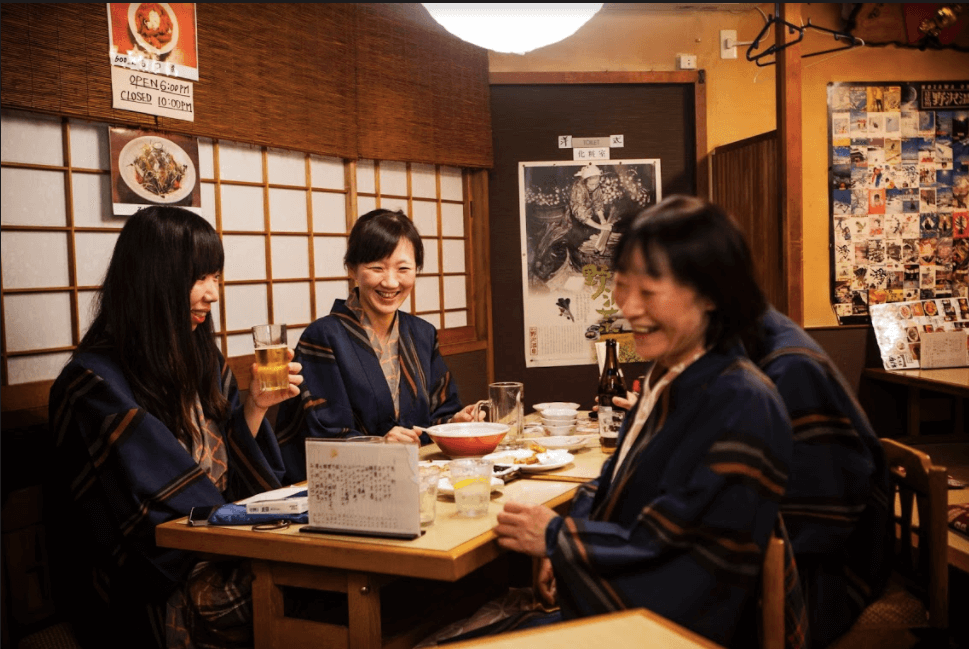 Food glorious food in Nozawa Onsen – Nozawa Onsen Summer Activities
As we mentioned Nozawa is a thriving farming community in the green season and with the warmer weather, volcanic soil and fresh mountain water almost anything grows. Means some amazing fresh produce landing on the tables of the restaurants in Nozawa Onsen and there are lots to chose from, enjoy sushi, okonomiyaki, kaiseki, Italian and many more. Lots of cool and cozy bars and cafes to indulge in in Nozawa too. Can check them all out here in our handy food guide; https://www.nozawaholidays.com/restaurants-bars/
So come up and discover all the Nozawa has to offer without snow too. Pretty sure you will fall in love with it as much as you do in the Winter months. You can do as much as you like or as little. We look forward to welcoming you soon…
Here is a link to look and book and start enjoying Nozawa Onsen in all seasons https://www.nozawaholidays.com/