We often say a visit to see the famous Snow Monkeys is a bit of a National Geographic moment and now National Geographic has made this great little clip. We are lucky to have this unique phenomenon just a stones throw from Nozawa Onsen and there are tours pretty much daily to the Snow Monkeys during the ski season.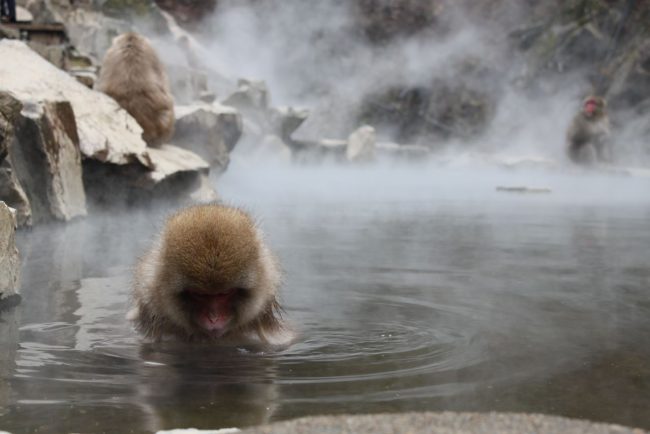 The scene is in the Jigokudani Valley in the Yudanaka National Park. Jigokudani means " Hells Valley" and the walk thru there alone is amazing with steep cliffs on either side and a river running thru the basin.
There are several Onsens and geysers spurting hot water out of the earth. At the end of the walk which takes about 20 minutes is a hot pool with the local furry bathers! The Japanese Macaques.
Some interesting facts you may not know about the Snow Monkeys
1. The average Lifespan is about 7 years but they can live to as long as 30 Years old
2. Food will eat most things. These lucky guys get a meal every day from the park rangers but make up their diet with roots, insects, ferns, bird eggs and even fish
3. Monkeys have a class system and appears most are born into it and it also extends to rights in using the hot pool so some scuffles can break out if the line is crossed. They also have a head monkey generally the biggest and oldest of the troop.
4. They have their own culture and it can be passed down from generation to generation. Like the fact that they often will be seeing washing their food before they eat it. They are very clever monkeys!
5. Surprisingly they are great swimmers and can swim up to half a kilometer. They don't mind the cold either and it can get very cold in that Valley. Luckily they have a hot tub to warm up
6. They are very playful animals and can often be seeing playing with each other and even making snowballs! They also like to groom each other and can be amazing to watch. They even hold each other tight to keep warm.
Be sure to check them out next time you come to Nozawa for some people it is the highlight of their trip…
Here is a link to book a Tour to the Snow Monkeys from Nozawa Onsen just click for a great day out…