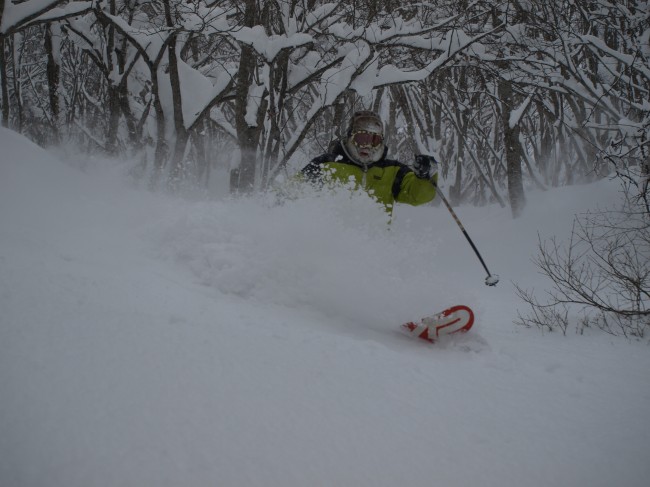 Base up top: 420 cm                  Temperature; -11 Degrees
Base at bottom; 300 cm
New Snow: 45 cm since close of lifts last night
Hard to believe but still snowing in Nozawa and has not stopped. This is one of the most consistent runs of heavy snowfall I can remember. Who knows if it keeps up we may challenge the next record of 530cm base set on February 5th 2006. The forecast is showing more moderate to heavy falls on the way so it may be a reality.
They have already started to dig out some of the snow below the lifts as they are becoming dangerously close to the runs below in places.
Yesterday on the mountain was another ridiculous day with more powder than a Johnson and Johnson factory! The sides of Skyline were like a natural half pipe with snow from the middle being pushed high up on the sides.
Today is even better with a lot less people to compete with for fresh tracks now the weekend crowd has gone. The official reports are showing a massive 45cm up top but less down low may have had something to do with the gusty Antarctic type conditions last night. There are fresh lines on offer everywhere, it is deep and mind blowing powder!
In the village now we are really praying for a break in the downpour so we can clear some of the snow before it gets dangerous. At this stage no sun on the horizon just more snow so for the lucky ones on the mountain strap on the powder boards and enjoy!
Check out a day in the life from the door step of Villa Nozawa in this cool time lapse movie put together by Mark Jobson. Nice when the groomers roll in on the cat track above the lodge and the lights pretty awesome. Thanks Mark