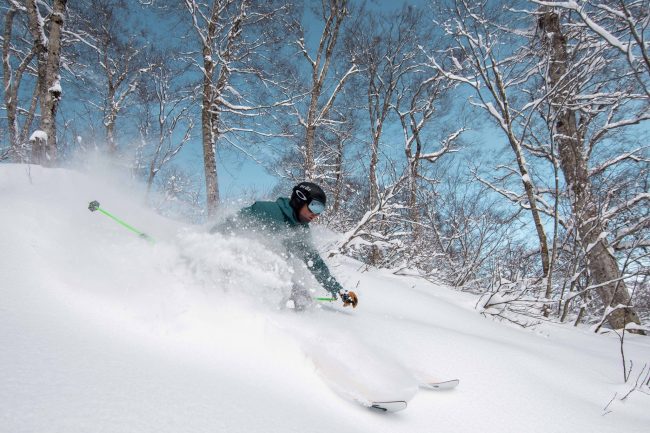 Beautiful January Days Nozawa
It is pretty obvious that this is not our best season for snow fall in not only Nozawa but the whole of Japan this year. However the last few days have been spectacular on the mountain particularly up top. If you are a hungry powder hound and looking for deep off piste skiing you won't find that deep powder we normally get at this time of year. But talking with some families yesterday they said they probably prefer the current conditions as there are no winds, temps are not freezing, they are getting a good dose of sunshine and the snow on the piste especially up top is fantastic. So for all the families with kids that visit us at this time of year they are having a ball. 
Beautiful January Days Nozawa
Todays Snow Report from Nozawa Onsen 
Temperature up top: -6 degrees
New snow since close: 0cm
Base at top: 120cm
Snow conditions: Fun and fast conditions 
Weather: Light winds, high cloud and maybe some light snow later 
Yesterday was a perfect day on the slopes with a bit of fresh snow left over from the day before and the corduroy on the groomers was as good as it gets. The views were gorgeous with surrounding mountain peaks pushing thru the clouds and the trees lining up to complement the winter landscape. The local kids had School Ski Day and were ruling the Uenotaira run, Snow Park and down to Paradise and the snow and views were outstanding. Skyline was also good and in to Karasawa. It was a bit icy at the very bottom but most of the way was great snow quality under foot. 
Today should be similar just the fresh snow is a day older but temps are cold and the groomers would have worked their magic overnight. Looking ahead and looks like a good system swinging in from Monday with good snow fall and freezing level dropping to sea level into Tuesday. Should hopefully see some more sun tomorrow morning. The long range is also looking promising and the Powder Hounds may get their fill in February, will have to wait and see.  
Some photos from mid February last season https://www.nozawaholidays.com/nozawa-onsen-skiing/nozawa-onsen-snow-report-15th-february-2019/
Have a great weekend in Nozawa. 
All these photos are from Yesterday and Thursday some by Mountain Swell Arigatou.