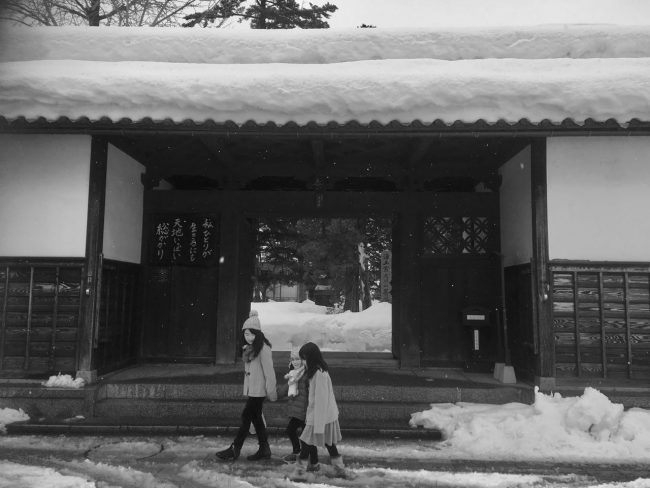 Big Snow Little Town Japan – A huge season on the snow front.
Last Snow Season in Nozawa Onsen will go down as a "good season". There was something for everyone, there was plenty of snow without being too crazy and we reached a peak of 370cm base on February 19th. The season before 2017 our peak was 435cm on March 28th and the big 2015 season we hit a huge 470cm base on February 16th.
If want to read a bit more about the season can do here Nozawa Onsen Stats 2017/18 Season
While Nozawa was having what we call a pretty normal season on the snow front some parts of Japan a little further South were having the most snow they had seen in decades. Parts of the Fukui area were being declared an emergency zone as locals struggled to keep their heads and houses above the snow-line!
Big Snow Little Town Japan – Ono Town caught in the eye of the Snow Storms
Ono Shi, (Shi actually means City but it is really a country town) is situated in Fukui Prefecture just over 40km to the Sea of Japan, a pretty similar distance as Nozawa is from the Ocean. So that same "Lake Effect" that delivers all that amazing powder to Nozawa also hits Ono. This is the phenomena where Systems come over from the bitter cold Siberia, gather moisture from the Japan Sea then dump the white goodness on the first Mountains they hit across the Western Sea Board of Japan.
Ono lies about 250Km further South of Nozawa and maybe due to Global warming have not been getting as much snow as they used to say 30 Years ago. My wife was born in Ono and has memories of having to dig her way out of the family home and then trudge thru 50cm of fresh snow on a regular basis to get to school. This has not been the case the last few years but this year saw the most snow in 35 years unload on the little township with all its might.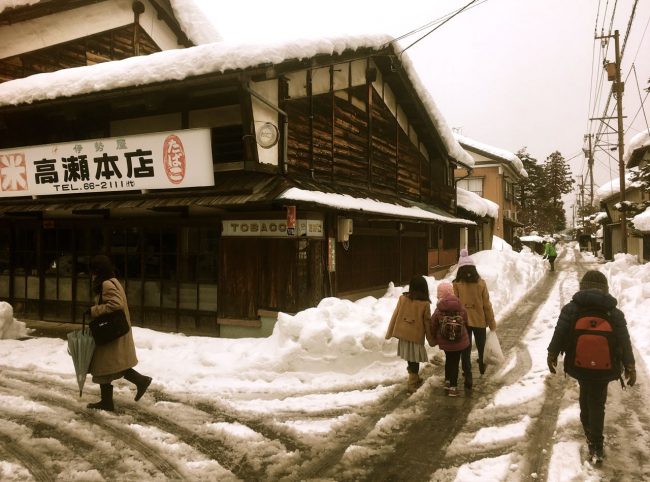 Ono Town – Little Kyoto
There are quite a few places in Japan that get the nick name of " Little Kyoto" like nearby Kanazawa. The other Fukui town called Obama which also got some limelight after the last US President of the same name. Kakunodate in Akita is also very famous. Kanazawa is a great day trip from Nozawa and well worth checking out Kanazawa from Nozawa. Anyway of all these Ono is probably the most laid back and least pretentious. It is very unlikely you will see another western tourist the whole time you are there.
Some of the more popular sights to check out when in Ono are
Teramachi or Temple Town built by Nagachika Kanamori, first lord of the domain, implemented the town planning in a rectangle manner similar to Kyoto
Samurai Residence of the Uchiyama and Tamura Families, take a step back in time and soak in the atmosphere
Oshozo Spring Water, "Hongan Shozu" that is designated as a national nature treasure, as well as one of the selected one hundred exquisite waters of Heisei
Ono Jo or Ono Castle, perched high on the hill over looking the whole town is a great hike and take in the view
Asaichi or Morning Market has been running for 430 years and brings together all the local farmers to sell their produce.
Big Snow Little Town – Ono Fukui Japan – Skiing
The good news is there are quite a few ski hills in easy access from Ono. Ski Jam Katsuyama is the most famous. Not a huge resort but it has a respectable 710m off elevation and 8 lifts. They also get all this amazing snow and hardly anyone to share it with. Could it be the next undiscovered gem? With the beautiful traditional town of Ono City on the doorstep it is well worth a visit when in Japan. Will try and do a post on it in the near future.
The massive snow storms Ono and surrounding areas experienced this winter also led to many tragedies with 16 people dying while trying to clear snow from their roofs. Kinuko Hirose aged 69 was one of them and we will miss her dearly.