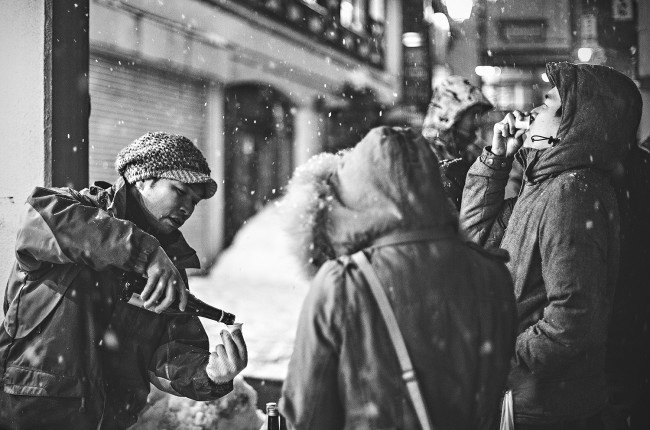 Base up top: 400 cm    Temp Top; -7 Degrees
Base at bottom; 255 cm
New Snow since close: 20 cm
Weather; Light snow
What crazy day it was yesterday! In the morning we had one patch of blue sky but come about 10am the clouds rolled in from the sea of Japan and dumped snow hard over the resort. With such an intense rate of accumulation during the afternoon it wasn't long before tracks were covered, especially with increasing winds blowing snow. Last lifts at Yamabiko saw almost untracked conditions.
Today is a different story with light flurries across the area. Winds will become lighter during the day and as they shift to the south west we should expect the skies to gradually clear. Good skiing and boarding will be had today, expect the snow to be similar to Sunday with wind compacted powder, deeper in the higher areas but less wind affected in the lower areas. Oh, and as of this morning the 4m mark has been cracked for upper base depth. Good times.
With southerly winds expected tomorrow there should be mostly fine weather. Light snow should increase to moderate rates of accumulation on Thursday. We initially expected a strong system overnight Thursday but this has backed off to more moderate levels. On the weekend there may be partly cloudy weather.