Naena Waterfall Myoko trip
If you're looking for a nice day trip from Nozawa Onsen consider visiting Naena Falls, a free attraction located in Myoko. This breathtaking waterfall, with its cascading waters and lush surroundings, offers a captivating escape into the wonders of nature and promises an unforgettable experience.
Naena Falls is nestled in a serene forested area, adding to its overall allure. Visitors can embark on a leisurely stroll along the well-maintained trails that meander through the woods, allowing them to immerse themselves in the natural beauty and discover hidden delights along the way. Naena Falls stands tall, measuring approximately 55 meters in height, making it one of the tallest waterfalls in the Myoko area. The sight of water gracefully plummeting down the rocks is a powerful and awe-inspiring experience. The vibrant foliage during the autumn months, when the leaves transform into a palette of red, orange, and gold, is a sight to behold.
Naena Falls holds a special place in the hearts of locals and is deeply intertwined with Japanese folklore. According to legend, the waterfall is believed to be the dwelling place of the water spirit, who guards the surrounding forests and ensures their prosperity. This cultural significance adds an enchanting element to the overall experience, allowing visitors to connect with the rich heritage and traditions of the region.
If you find yourself feeling hungry after the stroll to the waterfall, there are a couple food options for you on site. For 3000 yen you can have an immersive experience  of fishing in the pond located before the trailhead. After you make your catch you continue to gut and clean the fish and place it onto a bamboo skewer to cook over the open fire. Another option is the exciting Naena Taki En café located next to the pond where you can try Nagashi Somen, or the "floating noodles" where they send buckwheat soba noodles in cold water to your table via a stainless steel chute.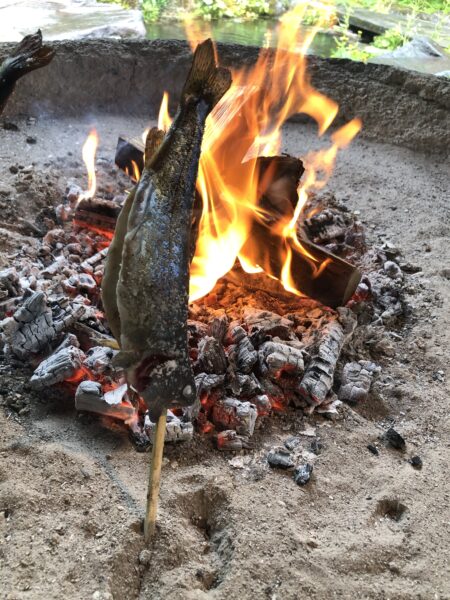 An additional nearby hidden gem is the outdoor Tsubame Onsen located at the base of Mount Myoko. The cloudy blue water makes for a serene experience in the pool, not to mention you get a beautiful view of Mount Myoko all the while soaking your body. If you are feeling ambitious, you can trek 19km from Naena Falls to the onsen, a perfect way to end a hike, or it is a short 20 minute drive from the falls. Either way, a good investment to stop by this magnificent onsen.
To make the most of your visit to Naena Falls, here are some practical details to keep in mind. The waterfall is easily accessible by car and only an hour drive from Nozwa Onsen, and possible to get there by train as well, located approximately 15 minutes from Myoko Kogen Station by taxi. Parking facilities are available nearby, ensuring convenient access for visitors.
Naena Waterfall Myoko trip
Naena Falls, with its majestic beauty, tranquil surroundings, and cultural significance, is a true treasure waiting to be discovered. Whether you seek solace in nature, crave delicious and interesting food experiences, or simply wish to immerse yourself in the folklore of Japan, a visit to Naena Falls will leave an indelible mark on your memories. So, pack your bags, embark on a journey, and let the mesmerizing charm of Naena Falls captivate your heart as you delve into the natural wonders of Myoko, Japan.