Gyoza Cooking and Calligraphy at Kaiya Nozawa
Kaiya Nozawa is open during the 2018 Green Season. We have some great package deals and we're excited to host some unique experiences!
Akiko Sensei will be running both gyoza cooking and calligraphy classes for those who want to take a uniquely Japanese skill home with them.
Gyoza Cooking Classes
Who can say that they don't enjoy gyoza? I don't see any hands up…
Although yaki-gyoza (the fried kind as opposed to boiled; sui-gyoza) typically contains pork as well as vegetables, they certainly can be made vegetarian.
Yaki-gyoza is the most popular way to cook and eat gyoza in Japan. It may seem simple enough but those who've tackled the challenge without the know-how will understand the struggle is real.
Akiko Sensei will take you through the intricacies and guide you through the preparation and cooking process.
The best bit? The eating process requires very little instruction!
Earlier this year, we were lucky enough to have a friendly collective group of a few families staying with us here at Kaiya Nozawa. They told Akiko of their love of gyoza and that they'd love to learn to make them at home in Australia.
Akiko jumped at the chance to share her knowledge and we all bonded over our love of yaki-gyoza. The results were delicious!
It was only a few weeks later we received an email with the news of success at home. Judging by the smiles on the kids' faces, the students have become the masters!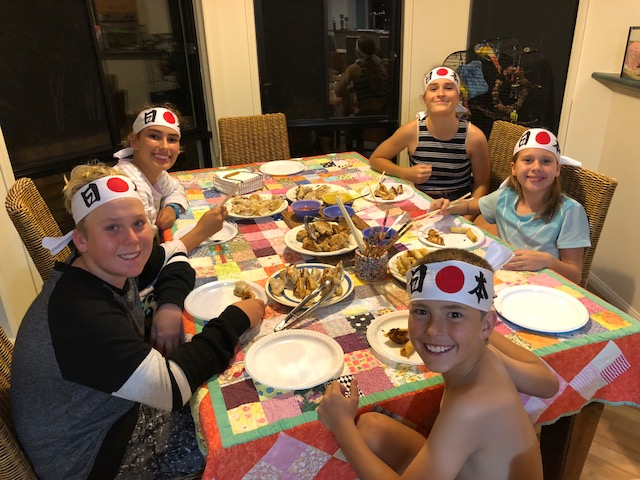 Calligraphy Classes
Calligraphy is a bit like folding gyoza parcels in that it requires concentration and a certain degree of dexterity. But perhaps that's where the similarities end…
Japanese calligraphy, or 書道 shodō, has Chinese origins but has evolved over the centuries along with kanji into a uniquely Japanese art, following the invention of the hiragana and katakana syllabaries.
If that last paragraph made absolutely no sense to you, don't worry, Akiko will explain everything.
So too will she let you in on the subtle wrist movements and brush stroke variations involved in ensuring your shodō characters look the part.
Akiko Sensei looks forward to sharing her love and expertise in both gyoza cooking and calligraphy over the Green Season here at Kaiya Nozawa.
Calligraphy class, duration 1 Hour ( Minimum 2 people) ‒ 1000 Yen
Gyoza cooking class, 2 Hours ( Minimum 2 people) ‒ 2000 Yen
Of course, these are just some of the activities happening during the Nozawa Onsen "Green Season". There's a multitude of things to do in this traditional farming village during the warmer months, albeit most of them at a slower pace than during the ski season. If mountain biking, hiking, and SUP paddling don't sound like your kind of thing, then perhaps yoga, traditional festivals and discovering the hidden beauty of the village does?  And let's not forget the real reason people have been visiting this place for centuries; the onsen!
Check out our fantastic summer package deals for the 2018 Green Season!