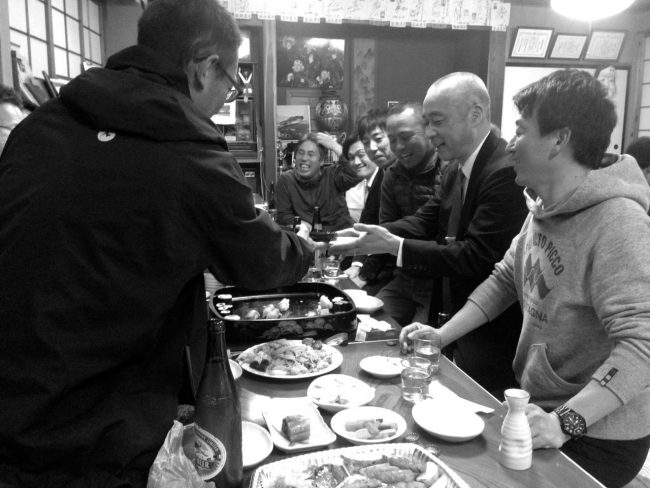 History Nozawa Onsen Japan
Nozawa Onsen Village Elders – The Sodai
As you may already know Nozawa Onsen has a long and interesting history. It is believed to have first been discovered by a Buddhist Monk in the year 724 AD so some 1293 Years ago! It may even have been longer.
It has been a popular destination for weary travellers since the 12th Century and the first Onsen or Bath House was constructed in the Edo Period in the 16th Century. The Bathhouse was constructed for a visiting Lord as a gift. The construction resulted in a set of rules being adopted to manage the Onsens, these guidelines and the control of them was known as Sodai and it is still very much a part of the village life to this very day in Nozawa.
History Nozawa Onsen Japan – The Sodai
The Sodai is a board of village elders that works together with the rest of the community to maintain the onsens, organise Nozawa Onsen's famous festivals and look after the mountains surrounding the village.
The locals elect its members and they run a term of 1 year that is often extended from there. There are 3 people working full time, the village heads and they often have to give up their regular job for a while to fulfil the position. It is not the best paid job in town and often is a volunteer position, the Sodai does however own a lot of land around the town including fields at the base of the runs which they lease back to the Ski Resort over Winter. They then also rely on contributions from all of us in the local community to continue their work in maintaining the Onsens and Nozawa's cultural history.
The Sodai is an interesting and long running legacy which is even rare for people from other parts of Japan but is a vital part of village life in Nozawa and should continue for many years to come.
Nishikata san otherwise known as " Mr Nice Guy" is one of the village heads at the moment. He and his wife also run Aitoku Lodge in the village a great place to stay when visiting Nozawa and to get a local feel and learn more about the history of our town. Here is a link to the Lodge