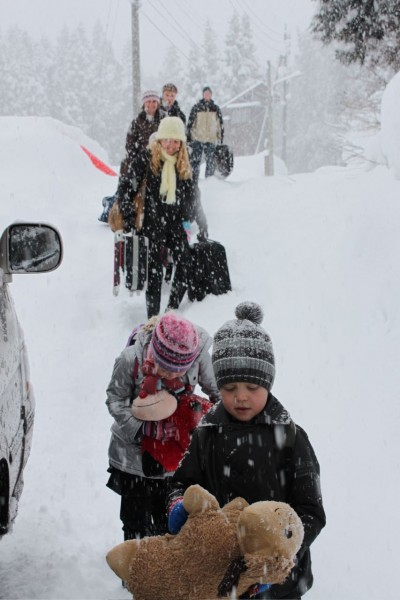 Base up top: 245 cm                  Temperature; -5 Degrees
Base at bottom; 175 cm
New Snow: 30 cm
It is coming down again in Nozawa Onsen with almost 30cm or as we like to call it the "Magic Foot" falling again in the last few hours. The dump we were expecting last night was delayed and the deluge began at about 7 am this morning. It has been bucketing ever since and everything quickly got blanketed.
The runs were amazing as even though they had been groomed most have now got at least 30cm of fresh snow on top. Not so many tracks about today so fresh slopes were on offer in many spots. Always know when it is going to be quieter on the slopes the next day by the numbers at the onsen the night before. Last night for the first time in a while it was just the regular few members enjoying a soak.
Outlook is for the snowfall to continue thru tomorrow but not as heavy and then sunshine on Friday morning. Good time to get the planks waxed and get out there for some more amazing conditions.
There are a few good options in Nozawa Onsen for waxing and tuning your skis or snowboards. Esfa below is one of the best. That's all they do and have been doing it for years. They take care of all the gear for the local race teams too and are good value. Other good options are Toshi near Villa Nozawa and Tomii Rentals on the slopes below Nagasaka Gondola. So no excuses fro not having your gear at its best to tackle the mountains of powder on offer in Nozawa at the moment . Just ask us if need any more info or help