New Gondola Nozawa Onsen Japan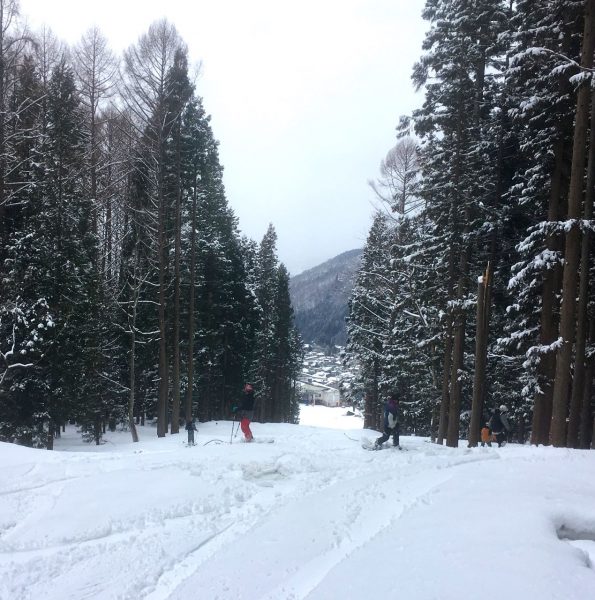 The New Gondola Nozawa Onsen Japan, In the Bubble era in Japan there were over 600 Ski Resorts scattered across the country. Large ones, small ones and plenty of in between ones! Skiing was booming across the land and so was the Japanese Economy. The Royal Family was skiing all the time and so were the average families and all the resorts were very busy, including Nozawa Onsen. I was working in Ski Patrol in the early 90's and some afternoons coming down Skykline Run it was standing room only and we were dealing with as many as 50 injuries a day not to mention the many we had to help slide down the steeper sections.
Then by the mid 90's the economy was starting to turn and so was the countries love of the slopes. Since many smaller resorts have shut shop as the skier numbers declined. Even now not many resorts in Japan are investing in their infrastructure to keep improving the resort for years to come. Nozawa Onsen is one of the few, so was great to hear a few years ago the announcement of a new main Gondola to get the skiers and boarders to the top quicker and easier.
New Gondola Nozawa Onsen Japan
A few facts on the new Gondola for Nozawa Onsen
The New Gondola will replace the current Nagasaka Gondola running from Nagasaka Base to Yamabiko
The middle station will be removed and the track will be straight to the top
The total length will be about 3.1km instead of 3.5km currently
Passengers will be sitting instead of standing in gondola cabins with seating for 10 expected
The construction will be done before 2020-2021 Ski season starts
It halves the travel time to the top (from 16mins to 8mins)
It will be more user friendly for Mountain Bikers and Hikers too and run longer over the Green Season months
All this is going to make for an even better experience skiing and boarding in Nozawa Onsen. We have opened bookings for the next season 2020/21 so if keen to get up and ride the new Gondola then get in as soon as you can. Here is a link to look and book Book Your Ski Holiday to Nozawa Japan
New Gondola Nozawa Onsen Japan – A bit of History
The Original Nagasaka Gondola was built in 1979 and was a 4 person gondola. It was then rebuilt in 1990 to carry 12 people with the boom and also for the Interski and Olympic in 1995 and 1998 respectively. This is the same Gondola above that currently stands. The Hikage Gondola was built in 1984 to carry 6 persons and is still operating, love the feel of "The Egg" shaped Gondola!