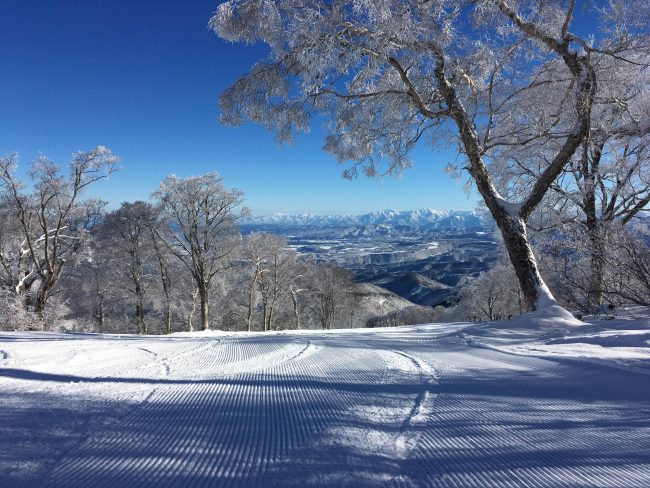 Nozawa Onsen Snow Report Christmas Day 2018
We must have been good this year…

Us folks here in Nozawa Onsen must have been well behaved throughout this year. Not only did Santa top us up with 5cm on Mount Kenashi overnight, but he also brought us crystal clear conditions early this morning.
That's before we even mention that there's plenty to be excited about on the forecast. Thursday night looks as though it's going to make Friday a pretty epic day. Starting tomorrow night, the forecast suggests it may not stop snowing up top, right through the weekend and beyond. We have indeed made Santa's "nice" list!
What's Christmas Day Looking Like on the Mountain?
Temp at top; 2C
New Snow Since Close; 5cm
Base at Top; 95cm
Weather; Sunny (10am)
Slopes open today in Nozawa;
Yamabiko A course (Intermediate)
Yamabiko B course (Intermediate)
Yamabiko C course (Intermediate)
Yamabiko D course (Intermediate)
Yamabiko E course (Intermediate)
Kokenashi A and B
Bunabayashi course (Beginner)
Uenotaira (Beginner)
Yunmine A and B
Paradise ( Beginner)
Hikage (Beginner)

Operating ski lifts
Nagasaka Gondola lift 8:40 ~ 15:30 (outbound line final 16:00)
Hikage Gondola
Hikage Lifts
Yamabiko 4 Lift 9:00 ~ 15:30
Yamabiko 2nd 4 lift 8:55 ~ 15:40
Uenotaira Lift 9:00~15:40
Paradise Lift
Nagasaka Triple
Shinyu Double
Yu Road
Christmas is about kids, really. So while we're on the subject of children, both young and old, it's the perfect time to mention our Snow Monkey Tour. After stopping for lunch along the way (make sure you're hungry!), the tour visits Jigokudani Monkey Park, just a short drive from Nozawa with views of the surrounding mountains. Tour leaves just after midday so you can still get in some skiing in the morning. Check out the monkeys page more info.