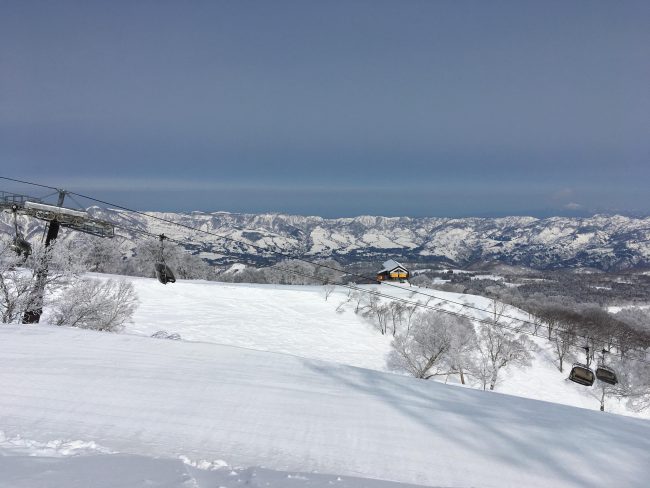 Nozawa Onsen Spring Snow Report, 30th of March 2019
With a few brilliant days behind us we now get ready for some more snow. Over the weekend, this looks like it will only eventuate up top of Mount Kenashi. Temperatures in the village may see that weather fall as rain. But if you look outside and see rainfall, get to the top of the mountain.
Beyond the weekend, temperatures look set to drop on the mountain and in the village. If the current forecast eventuates in reality, we may even have the snow shovels out again on Tuesday morning. Perhaps even Wednseday morning. Let's not get ahead of ourselves just yet but if the present forecast is on the money, the start of April might be mistaken for the heart of winter.
Spring really is the time to be hear, folks. Whether we get that snow or not, there's not likely to be too many people to share the runs with during the week. Even the weekends aren't crazy busy. We typically see either brilliant sunshine and warm days or the odd snowfall of some measure. Spring skiing doesn't present as many powder days as the peak times but the trade offs are obvious; cheaper accommodation, cheaper lift tickets, fewer people to share runs with, etc. And we just might get a dump or two!
What's the official word from the top of the mountain this morning?
At 8:06 am;
Temp at the top; 0C
New snow since close;  0cm
Base at the top; 275cm
Weather; partly cloudy
Ladies and gents, if you're going to be in Japan, there are far worse places to spend the Golden Week holiday. We should still be skiing up top and paddling on Lake Hokuryu by then. It's a magic time to be in Nozawa Onsen. Beyond that, there's our Green Season which is growing in popularity.
Check out the post below which explains how you can spend a month in the village for less than you can rent at home!