Nozawa Ski Season Wrap 2020
Nozawa Ski Season Wrap 2020, The lifts stopped rolling in Nozawa just a few weeks ago with the last day being April the 17th 2020. It was a strange end to the season, we had thought around mid March we may end early anyway based on the snow levels. However the snow kept falling and the temps stayed low and we had one of our best Aprils in years. There was still close to 200cm of base up at Yamabiko on the closing day! Like pretty much everywhere in the world the dreaded "Rona" affected us too and the resort decided to close for the health and safety of both staff and guests. A wise decision and similar for all resorts world wide. So how was the season in general otherwise?
Worst Season Ever?
There were a lot of calls especially early on that this was Japan's worst season ever. There is no doubt that the snow fall was light on compared to other years but we still had some amazing days and the snow fell consistently over the season once it got going. Of course we are a bit spoilt being here all season can pick our days but most guests, although may not have got that waist deep crazy powder days, left with a smile and a few good days to make their ski trip.
Here is a graph that shows the Snow Fall for the season in Nozawa
If look at this graph it appears maybe this Season 2019/20 in Navy actually came in above the 2015/16 Season in Green! It certainly finished stronger. Wow that purple line for 2014/15 Season shows how crazy the snow fall can get!
Nozawa Ski Season Wrap 2020 – Month by Month Summary
This year it felt like the whole season jumped a month, or everything was a month late. So December was more like November and April was definitely more like March usually. We also got our most snowfall in February which is usually reserved for January most years.
December Nozawa
Unfortunately the waiting game in December proved to be just that a waiting game. The resort only opened on Christmas Eve 24th of December 2019 which was a bit of a Christmas miracle for us all. We normally start skiing in Nozawa by mid December at the latest often earlier. Up until then Nozawa Holidays had been driving all guests over to nearby Shiga Kogen which was already opened at the start of December. We did that for a total of 23 days and everyone got to ski. Fortunes started to change on New Years eve however with a nice dump. This shot from the 31st of December 2019, the last day of the year.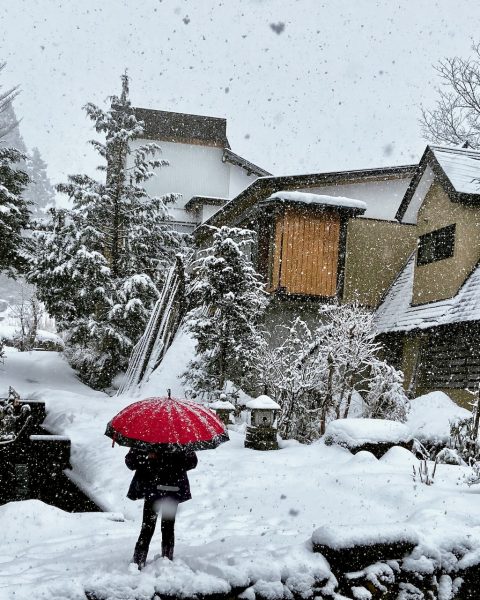 January Nozawa
January is normally our peak month for actual snow falling from the sky. We can often find ourselves up on the roof a few times over January getting snow off so the roof does not cave in! Unfortunately only really went up once for a check in January as the big consistent falls just did not kick in. The base at the end of the month was at 130cm the same time last year it was at 320cm so gives you an indication of what we missed.
January is also our busiest month especially this year with the Chinese New Year and Australian School holidays both in January. Most people that had never experience the amazing powder of Nozawa were still impressed and the groomers were terrific, but those that knew what it can be were naturally a bit disappointed in January. Especially those that love the back country as there just wasn't enough snow out there. We still had a few deep days though…
February Nozawa
February and we got back in to that old Nozawa Rhythm. If you check the below graph you will see that we got a total of 245cm fall in Feb which is more than most years! Even got a few of those big 50cm plus days of snow fall. We hit the peak Base for the season on the 11th of Feb with 275cm recorded at Yamabiko. Check out the report and photos here Snow Report Nozawa Onsen
March Nozawa
March is one of our favourite months of the year, we have all the base, no crowds and still get some nice fresh dumps. This March although the base was not as deep was still a great time of the season. Especially in that first week or two as is usually the case. Unfortunately the Corona Virus situation started to grip the whole planet and the overseas guests numbers dwindled pretty quickly. The top to bottom skiing also finished a bit earlier than normal due to the lack of snow but the top remained good even into April
April Nozawa
Funnily this past April has probably been one of our best for a while. The temperatures stayed cold and the snow kept falling. There was almost no on here too literally so the locals got their days on the snow to themselves. The freezing level was low enough for the snow quality to remain good up top all the way thru until the resort closed on April the 17th, that was a real fun day too. Check out some of the photos and details here. Nozawa Last Day of Season
Also check out our socials and blog posts for the daily reports and photos over the season. It shows even a bad season in Nozawa is not too bad 🙂
Instagram for the Photos https://www.instagram.com/nozawaonsenjapan/
Blog Posts and Snow Reports Nozawa Onsen https://www.nozawaholidays.com/blog/
Nozawa Ski Season Wrap 2020
Stay Safe, Stay Home and Hope to See you next Season in Nozawa
It was a strange end to the season with all the uncertainty surrounding the Corona Virus. Nozawa is yet to have any cases and we felt like we were in a bit of a bubble for a while there. Now the end of April it appears some countries like Australia and New Zealand are coming out on the other side. Great to see and we hope the rest of the world follows soon so we can welcome you back to Nozawa next season. Nozawa would not be the same without you all.
A huge " Arigatou Gozaimashita" and Thank You to everyone that visited us in Nozawa this last season. As always was a complete pleasure to have you and we hope you were not let down on the snow front. My 92 year old neighbour tells me we are in for a huge season next year and it feels that way in the bones already.
Bright side of the times
Could one good thing be coming out of the current situation? As industry grinds to a halt and we're not moving around much, there's less pollution being expelled into the air around the globe. Hope this bids well for slowing down climate change and gives us more snow in the future. Will have to wait and see. So fingers crossed for a big one and that all will be well. Please jump on the site if keen to book here is a link Book Ski Holiday Nozawa Now
It will give you something to look forward to 🙂 and planning a trip is half the fun.
Remember there is nothing to lose with our Full Refund policy if cant travel due to the Corona Virus
We have put in a Special Cancellation Policy to cover extenuating circumstances related to the current Corona Virus. If there are still travel restrictions in place or you feel it is not the best time to travel, then we will refund your deposit in full if let us know prior to October 1st, 2020 with no loss or obligations.
We hope to see you in Nozawa and on the all new Gondola next season!