Kongo – Nozawa's New Night Food Market

Kongo Night Market
Map Reference: B/C7
Just down from Shinden Bus Terminal.
Type of Food
Yakitori (grilled chicken), yakiniku (meat grilled at the table), oden (one-pot dish consisting of ingredients like boiled eggs, daikon, konjac, fishcakes, etc, stewed in a soy/dashi broth).
The Plug
Nozawa Onsen is home to some amazing places to satisfy hunger. But as the snow and culinary secrets are continually being revealed, so too do the diners increase. The great news is that supply follows demand. Nozawa's new night food market provides a unique setting to eat, drink and be merry. The Kongo market is a relaxed and delicious alternative to the town's restaurants.
The Story behind the Scene 
This building used to be the local Steel Works run by the smiley-faced Yamazaki-san. His father before him was also a steelmaker in Nozawa Onsen. The building was pretty rough with a dirt floor and laden with bits of handmade steel pieces from over the years. He also ran a small family soba shop and told me his vision. I must admit I struggled to see it but he has done an amazing job converting this once sparse steel factory into a vibrant food court. Otsukaresama desu.
Yamazaki-san also made lots of different things for us over the years from stairs to ski racks. The good news is he has not totally given up the steel game and still has a smaller factory next door.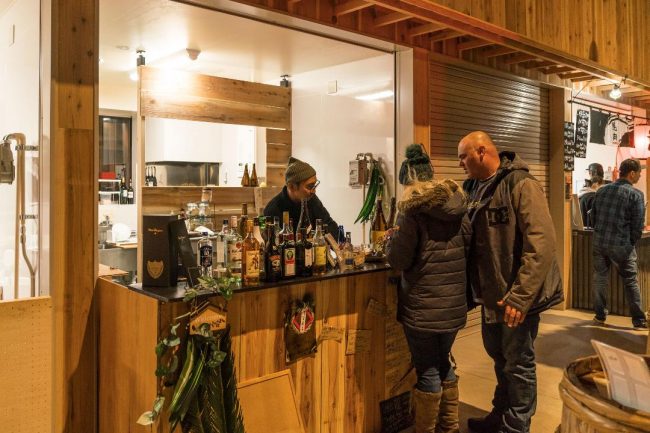 Kongo market is home to a small handful of options but can cater for around one hundred diners and drinkers. Food options include yakitori, yakiniku and oden. There are a few bars there too, with beer and local sake being among the popular choices.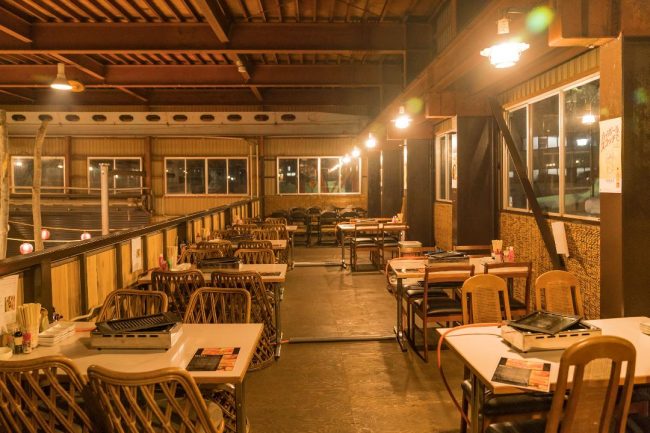 For those heading down to the Kongo Night Market, there is a fireplace but you're probably going to want to keep your outdoor wear on. It's a really great atmosphere for food and drinks and the centrepiece is a replica of the shaden from the Fire Festival.