The powder snow of peak ski season in Nozawa Onsen speaks for itself. The onsen after a long day on the mountain followed by all the delicious restaurants in town, just top it off. However, it's not just the winter months which hold Nozawa's treasures and pleasures. The Green Season sees the village transform in to a traditional farming village with a myriad of unique attractions of its own. Here's 7 of the best…
7. Go Ride A Bike!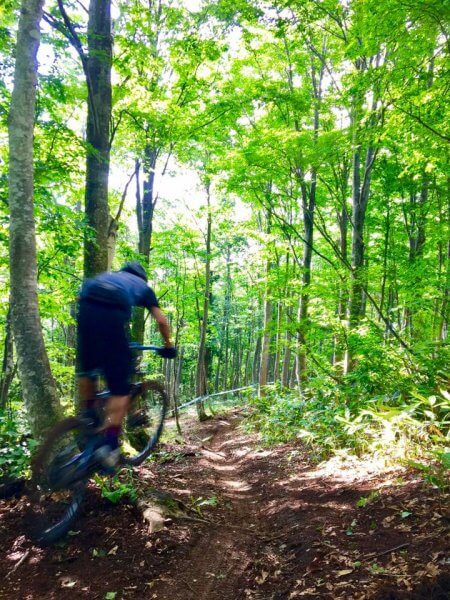 Some of the same lifts which get us to the top of the mountain in winter open for a few months during summer. Instead of skiing down, mountain bikes are the order of the day during the warmer months. The locals have carved out lots of awesome mountain bike trails over the past few years. For those who prefer a smoother ride, you can ride down the road which functions as the Forest Trail in winter. Then there's the option to take a road bike the other way and go all the way to Shika Kogen.
Check out our info page about biking in and around Nozawa Onsen.
6. Find Your Zen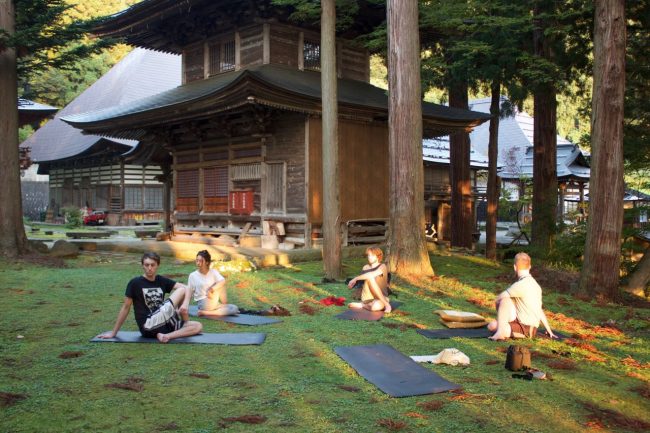 Nozawa's culture, nature and onsen all conspire to provide the perfect place for meditation and yoga. Coupled with fresh local produce of this traditional farming village, we wish it was August already! This year's retreat with Phoebe-san runs from August 06 until October 14, 2018.
5. Sample Farm-Fresh Local Produce
Just writing the bit about fresh produce in the yoga section got us hungry. As mentioned, Nozawa goes from a ski village to a small farming town in the warmer months. The farmers in Nozawa Onsen and surrounds grow a whole host of different fruit and vegetables. The most famous of them is perhaps the nozawana. Often served pickled, nozawana is a region-specific leafed vegetable. Many of those you see operating the ski lifts in winter grow fresh produce such as nozawana and rice (among many other things) in summer.
4. Eat at Delectably Delicious Restaurants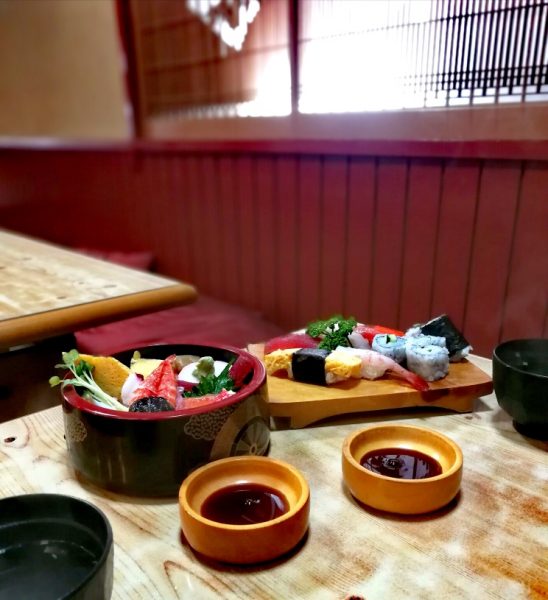 Of course, some of that delicious fresh produce we mentioned ends up served in the village's restaurants. Along with fresh coastal produce like in the picture above served at Hamacho Sushi, much of Nozawa's culinary treats are too delicious for words. There's really only one way to understand what we mean and that's to try them yourself!
Check out our bar and restaurant guide to get started on finding your favourite.
3. Toast to the Beauty of Your Surrounds
Now all we need is something to wash down all that delicious food with! The good news (as you'll have learnt if you already checked out our bar and restaurant guide) is there is plenty to choose from when it comes to places to get a drink. It's not only the fruit and vegetables that may claim to be local, however. Mizuo sake have been brewing in nearby Iiyama since 1873 and use Nozawa Onsen spring water blended with Iiyama and Kijimadaira rice to make some of the nation's finest iconic beverage.
2. Get Festive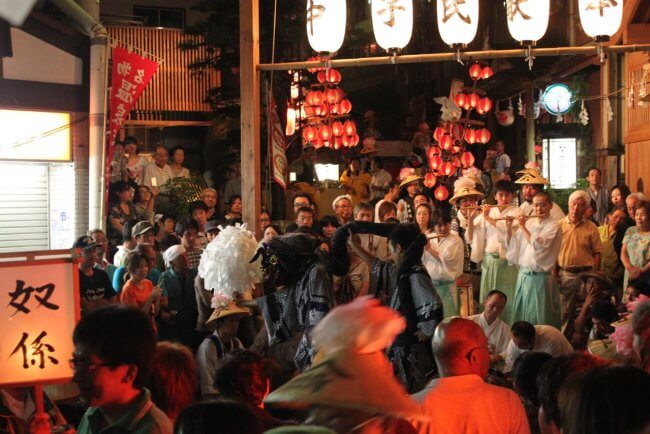 Certainly the most famous of festivals held in Nozawa Onsen is January's Fire Festival. However, there are a few others during the warmer months which certainly rate a mention. The Take no Ko Matsuri  (The Baby Bamboo Festival) gives Nozawa a street market-type feel during the middle of June, while the Autumn Lantern Festival (okay technically not summer) is something to behold in September.
1. Don't Forget the Onsen!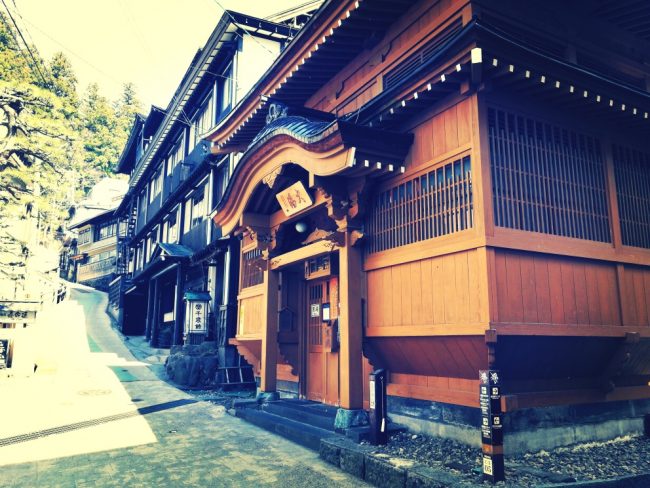 This wouldn't have been much of a post on all things Nozawa if the onsen weren't mentioned. We don't really have to sell you on the rejuvenative qualities of a natural hot spring bath. The volcanic mountains of Japan provide distinctive mineral therapy and nowhere is this more obviously the case than in a village bearing the name, "onsen".
Nozawa Onsen is home to 13 soto-yu (public bathhouses) and many visitors either find their favourite or do an "onsen crawl". Either way, they're the perfect way to relax at the end of a day spent engaging in more vigorous pursuits!
Nozawa Onsen Summer
A Nozawa Onsen summer is a little different to winter but no less inviting and intriguing. If we didn't limit ourselves to 7 reasons earlier, we may have also mentioned hiking, summer skiing, SUP paddling, kayaking and all the other outdoor pursuits to enjoy during a Nozawa Onsen summer. Oh and we forgot the monkeys!