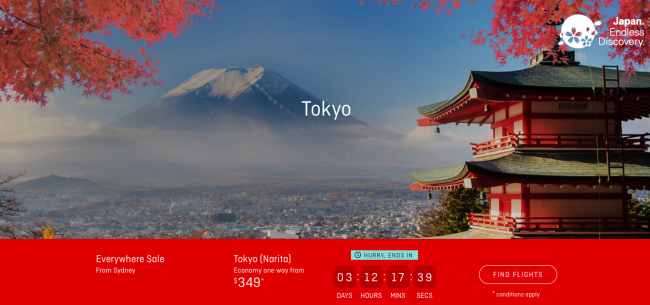 Qantas Sale Ski Japan
Jetstar and the no frills carriers have always got good deals going to Japan it appears and now Qantas is also doing some awesome fares to Japan for various times of the year including Ski Season! With One Way Economy from as little as $349.
Dates been advertised Departing Sydney include the following
Depart betweenTue 29 Jan 2019–Wed 13 Feb 2019 – This is Peak Snow Time in Nozawa with almost always awesome snow!
Depart betweenTue 16 Apr 2019–Fri 3 May 2019 – This is Spring time but can still Ski in Nozawa until May 6 and catch the Cherry Blossoms and some amazing deals with Accommodation heavily discounted. Great for the kids over Easter School Holidays 
Check out the reports for conditions from past Seasons here ; Spring Skiing Nozawa Onsen Japan
Here is an idea of a package for 2 Adults and 2 Children from March 15th until the end of the season on May 6th
Spring Japan Family Ski Holiday
7 Nights Stay based on Japanese Style Tatami Room with Share Bathroom staying at the popular Villa Nozawa or other great lodges too Villa Nozawa Ski Lodge
Healthy Breakfast Included Daily
6 Days Lift Passes
Use of all the Village Hot springs
All from just 67,650 yen per person Adults (Approximately $AUD 845 at current rates) x 2
Children from just 32,825 Yen (Approximately $AUD 410 at current rates) x 2
Total = 200,950 Yen or Approximately $2490 at current rates
Can lock it in in $AUD if pay in full now too! Subject to availability.
Here is a link to the Qantas Sale ; Qantas Sale Ski Japan Ends 30th of July so get your skis on!
Jetstar Club also doing some even cheaper deals for the ski season Jetstar Japan Sale
Qantas Sale Ski Japan
Green Season and Tokyo – Don't forget Japan is not all about the skiing! It is an amazing country to explore at any time of the  year. Come up in the Green Season to Nozawa and experience the Hiking, Mountain Biking and our Yoga Retreat! Here is a link to Green Season Activities ; Green Season Nozawa Onsen