Traditional Japanese Hospitality – Sumiyoshi Ryokan is the lodging of the week in Nozawa Onsen.
It is different to many places we offer in that it is a Ryokan or Japanese Traditional Inn and compared to many other Minshikus or Pensions they are more upmarket and a higher rate. If you are feeling like a splurge and total immersion into old school Japanese Hospitality then they are a fantastic experience.
Sumiyoshi is the number 1 rated Ryokan or Hotel in Nozawa Onsen and is a beautiful Inn with outstanding service and friendly hosts. The Kono Family has been running Sumiyoshi since 1869 so have a long history in taking care of guests from all over Japan and the world. They have a great staff there that will go above to make sure you enjoy your stay in Nozawa.
Location, Luxury and special attention of a Ryokan in Nozawa
It is an amazing location right next to the Ogama Cooking Onsen so can see villagers cooking up their vegetables right from your bedroom window. It is a unique part of the village. The people mover Yu Road is also very near by giving easy access to the slopes.
The rooms are large Traditional style Tatami rooms some have beds and some Futon style. Many have own bathroom and for the others there is a beautiful in house Onsen to indulge after a day on the slopes. The dining experience here is also amazing and be sure to try the Kaiseki dinner option atleast one night you are there.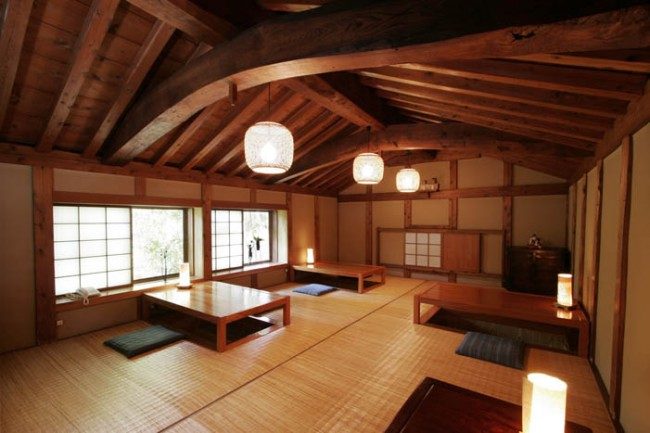 Nostalgic old school Japanese sitting areas also throughout the Ryokan where you can sit and drink a cup of green tea and almost taste what life in Japan must have been like over 100 years ago.
Sumiyoshi is popular so tends to fill fast but we also have some other great Ryokan options in the village if wanted to give them a try such as Sakaya Ryokan and Jonnobi also amasing Japanese style stays in Nozawa.
Here is a link to look and book Sumiyoshi. Ifyou stay you get the full support of the Nozawa Holidays bilingual staff in the village to help with what ever you need.