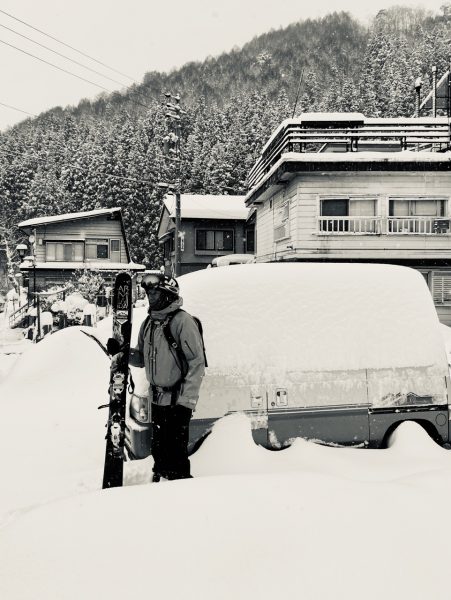 Ski Improvement Nozawa Japan
Beautiful Bluebird day ahead for Nozawa 
Yesterday or today could be your best day of the season so far depending what you prefer. The all day dumping of fresh snow yesterday or clear skies and sunshine on the cards today. Most people I saw coming down the mountain were pretty happy with yesterdays conditions as the snow just kept falling all day. We ended up with a massive 50cm from that little Siberian storm and the base has now been pushed up over the 150cm mark. 
There were fresh tracks from the start yesterday on piste up at Yamabiko with the snow that had fallen since they groomed the slopes, the snow got heavier filling in tracks and opening up some areas for the first time this season. Still not enough to venture off piste but within the resort was great all the way from top to bottom. 
Todays Snow Report from Nozawa Onsen 
Temperature up top: -8 degrees
New snow since close: 2cm ( Yesterday total 50cm maybe more) 
Base at top: 155 cm
Snow conditions: Bluebird day and plenty of fresh snow still 
Weather: Sun starting to peak out for a magic day ahead. 
It was super cold last night in Nozawa, I don't use a heater in my room much as it is well insulated and I like to sleep in the cold fresh air. I do have a thermometer however and normally it is around 10 degrees but last night was down to 5 degrees, so just used another blanket.  That cold will mean the slopes will be in amazing condition today. Gondola opens soon so be sure to get up there early. 
It is going to warm up throughout the day though with the glorious sunshine and will remain warmer tomorrow before dipping again into Friday.  Snow expected for the top on Friday but unless gets a bit colder we may get some rain down low.  For now get up there and enjoy what should be a superb day on the slopes in Nozawa and don't forget your sunglasses. 
Ski Improvement Nozawa Japan
If want to improve your skills on the slopes consider joining the Ski Improvement course from March 7th in Nozawa should be a lot of fun https://www.nozawaholidays.com/news/ski-snowboard-improvement-courses-nozawa-japan/