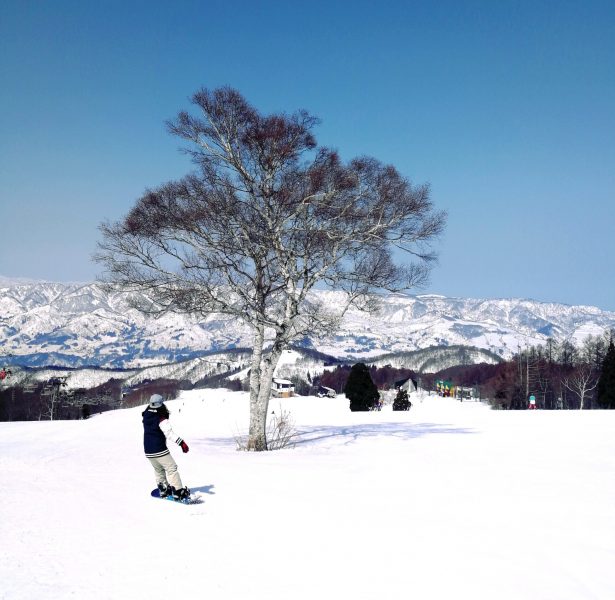 Slide Into Nozawa Spring
The season as a whole may have shifted forward a few weeks but it's hard to complain with days like this. A cold change looks to be on the horizon, however.
Thursday 29th of March
Temp at Top: 5℃
Weather: Partly Cloudy

Base at top: 245cm
Base at Uenotaira station: 150cm
New snow since close: 0 cm
Looking back on the season thus far, it would appear that the season shifted forward a few weeks. We got some really good snow early on in the season. The dumps continued and perhaps backed off a little earlier than in some other years. However, even though we're well in to spring and there's not a crazy amount of snow, there's still a respectable base to ski down.
Today is shaping up to be another cracking spring day to be on the mountain with a little cloud creeping in. The forecast suggests the warm temps we've been enjoying of late will continue for most of the day. This evening and tomorrow morning should see the gauge take a dive. There could even be a dusting of fresh snow in it. We'll have to wait and see!
The Spring Season to Come
Just over the horizon is the Green Season and the beauty that it brings. But before that comes around, there's still plenty of spring skiing to be had on Mount Kenashi. There's also some great discounts at this time of year, both in terms of lift tickets and accommodation.
It's also a really good time on the mountain for families. The snow might be a bit slushy in part but that only adds to the fun and the temps are quite kid-friendly too.
Of course, we should definitely also mention the Green Season when Nozawa become a lot quieter and dramatically greener! It's a real treat to enjoy the warmer months in Nozawa Onsen too!