Snow Fall Nozawa Onsen
Today is the beginning of what's looking to be the snowiest week of the season so far! Perfect timing for all our guests travelling for the Chinese New Year.
Nozawa Onsen is known for its excellent snowfall. People travel from all over the world to get a taste of that fresh powder! The best snowfall year Nozawa has ever experienced was in 1986… That season, they received more than 2000cm!
The lowest record was in 2016 – where the mountain received just over 500cm… This is still a lot compared to an Australian ski field such as Perisher, which in that same year received just over 350cm.
Today we should see around 50cm of snowfall throughout the day so don't forget those extra layers and wrap up warm.
TODAY:
Temperature at the top; -3 degrees
New snow since yesterday; 0 cm
Base at the top; 160 cm
Snow conditions; Currently it's groomed packed powder. Hopefully we see snowfall top up during the day.
Weather; Cloudy all day today with snow showers increasing throughout the day.
LIFTS IN OPERATION: 
All lifts apart from Challenge Pair and Karasawa Double are open.
RUNS OPEN: Same as yesterday.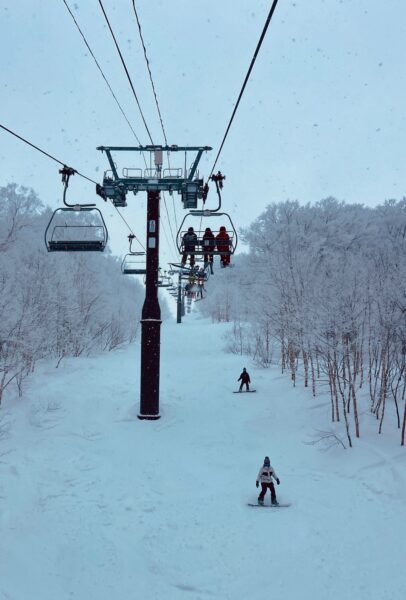 The snow will start falling today and at the moment, the forecast predicts that it will not stop until the end of the week at least! Moderate snowfall tomorrow, with 20cm of fresh snow falling throughout the day. Thursday is now looking snowy as well, with light to moderate snowfall and 10cm of fresh snow. Friday will be light snow showers with just under 30cm overnight. Saturday looks to bring heavy snow all day with just under 40cm. It may ease on Sunday with light snow showers throughout the day.
So basically we should see well over a Meter of fresh snow fall in the coming week and some really cold temps. Will make for some amazing powder days ahead in Nozawa.
If you are new to riding Powder and think you may want a lesson please jump on the link to book ( Link in Bio Too); https://www.nozawaholidays.com/lesson-registration/
Let us know in the comments below how many layers you're wrapping up in today and tag us #nozawaonsenjapan while you're out riding to be featured on our Instagram stories.