White Christmas Nozawa Onsen Japan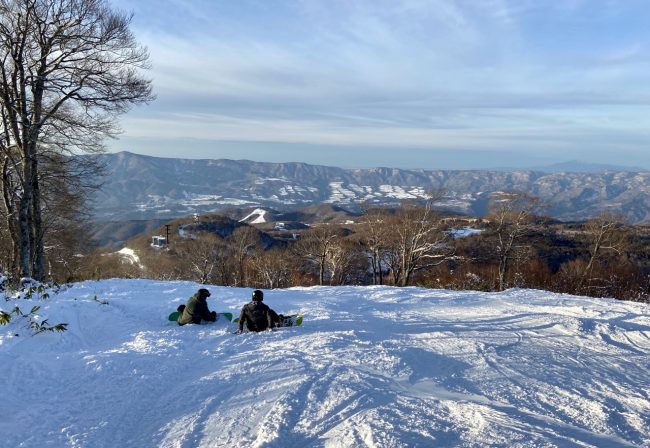 Not a bad way to spend Christmas on the slopes yesterday with fresh snow and glorious sunshine. For sure we could use some more snow still but with nice cold temps up top the snow underfoot was terrific. A few people around as was only Yamabiko and down to mid station but something for everyone and spectacular views across the valley.
Nozawa Snow Report
Temp at the top; -2C
New snow since close;  0cm
Base at the top;  40cm
Weather; Cloudy with snow expected tonight
Same runs and lifts open today but also Uenotaira opening which is great news for beginners and others as give a lot more skiable area
◆ Operating lifts
Nagasaka Gondola Lift 8: 40-15: 30 (Down load 16:00)
Yamabiko Four Lift 9: 00-15: 30
Yamabiko Second Four Lift 8: 55-15: 40
Skyline contact pair 8: 55-15: 50
Yu road 8: 30-16: 30
Uenotaira 4 9;00am to 16;40pm
◆ Open Runs 
Yamabiko A course (1,300m) Closed 15:20
Yamabiko B Course (800m) Closed at 15:20
Yamabiko C Course (850m) Closed at 15:20
Yamabiko D course (1,250m)
Yamabiko E Course (1,000m)
Kokenashi (200m)
Beech forest course (2,500m) closing time 15:30
Uenotaira Slope
* Due to the lack of snow, there are some places such as bushes and stones, so please be careful when sliding.
* For downloading, please use the Nagasaka gondola 
Lift Pass Prices Nozawa 2019/2020
Lift Passes are also at usual prices from Today! Here is a link to check the prices Nozawa Onsen Lift Pass Prices
The most popular lift pass we sell is 6 days which was 26000 Yen last year and is 27000 Yen this year which works out at 4500 Yen a day or actually $US40 a day which puts us in 4th spot after Morocco! That is just $AUD57 a day for all the Aussie guests for less than Half price of Thredbo!
White Christmas Nozawa Onsen Japan
The Forecast still looking great for tonight into tomorrow with 50cm expected which should be a game changer and transform the landscape up there pretty quickly.