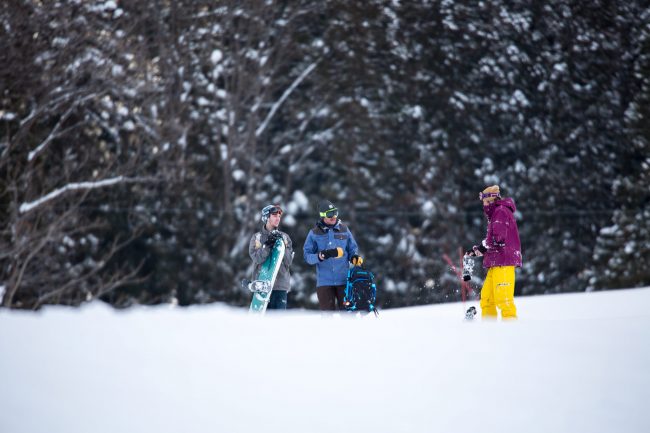 Book 2 Ski Lessons, Get a 3rd Half-Price
Spring may just be the perfect time to take a lesson and get your skiing or boarding to the next level. This is especially true for those just starting out. Ski runs have fewer people on them and the weather is friendlier for beginners. But you needn't be a novice to benefit from a bit of guidance.
Nozawa Holidays' instructors come from all parts of the world and have experience in instructing all ages and abilities. We have great English-speaking in-house instructors. They are experts in both skiing and snowboarding and will be happy to give you some tips no matter what level you are: beginner, intermediate or advanced. We have been in Nozawa for almost 30 years now and know the mountain and village well.
Now is the time to take advantage and get the most out of spring skiing in Nozawa Onsen. We're giving guests the opportunity to get more for less on the mountain for the rest of the season. That means right up until the end of Golden Week in early May, your third lesson will be half-price.
For example, you (and up to 3 other people as a group) may choose the popular 2-hour morning slot at 10:45 am. This gives you the chance to learn some new skills in the morning and spend the afternoon practising them. At ¥18,000, you get the third for a mere ¥9,000.
Lesson options:
2 x 9 am lessons at ¥15,000 each and the third for ¥7,500 = 3 x 1.5-hour lessons for ¥37,500,
2 x 10:45 am lessons at ¥18,000 each and the third for ¥9,000 = 3 x 2-hour lessons for ¥45,000,
2 x 1:30 pm lessons at ¥16,000 each and the third for ¥8,000 = 3 x 2-hour lessons for ¥40,000,
or
2 Full day lessons at ¥29,000 and the third for just ¥14,500 = 3 x full day lessons for just ¥72,500.
Don't forget to check out our registration page which may help to answer any questions you have and send us an email at lessons@nozawaholidays.com with any queries.