Dogs Ski Nozawa Japan
Every Dog has his day in Nozawa 
Sunday is a good day for walking your dog or taking them on an adventure. In the snow season in Nozawa it is much the same and you see all sorts of four legged friends on the slopes on the weekends especially. Who has seen a few of these brave little guys and has a story to tell.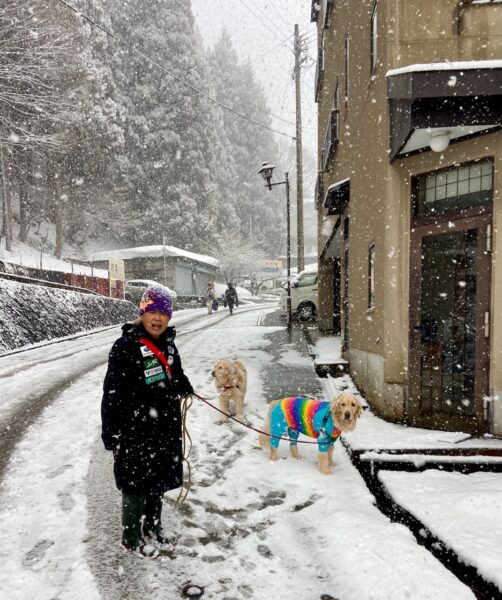 Dogs Ski Nozawa Japan
They wear jackets, goggles, booties and more in the pursuit of staying cute and cosy as they take to the slopes. For just 600 yen you can take your dog up on the Gondola with you. They seem to love the ride and the freedom of running in the snow around the mountain. Nozawa is definitely one for the Powder Hounds. 
Snow can evoke various reactions from dogs depending on their breed, size, and personal preferences. Here are a few points to consider when it comes to dogs and snow:
Breed and Coat
Playfulness
Exercise and Activity:
Cold Sensitivity
Paw Care
Safety Concerns
Senior Dogs
Frozen Lakes and Ponds
Hydration
Even in cold weather, dogs need access to fresh water. Eating snow should not be relied upon as a primary water source. Snowy conditions can provide a different kind of exercise for dogs. The resistance of snow can make walks and playtime more challenging and tiring, which can be a good thing for high-energy dogs
Remember, every dog is unique, so their reaction to snow will vary. Always observe your dog's behavior and adjust their outdoor time and protection accordingly. If your dog shows signs of discomfort or cold-related health issues, consult a veterinarian. Dogs are an important member of the Family so awesome to include them in a fun family adventure like a ski holiday to Nozawa Onsen.