Clouds yesterday but it looks like only sunshine today.
Nozawa Onsen Spring Snow Report, 13th of April 2019
Yesterday didn't feel too much like spring skiing. In fact, that may be said of most of April, so far. It's been a continuously wintery affair, whether that be the huge amount of snowfall or simply the cold temperatures. As it stands right now, the forecast says those temperatures will lift a little today. However, it also says tomorrow night may bring more of the white good stuff to the top of Mount Kenashi. Maybe. So let's bask in the sunshine today, while it lasts.
If you miss a Saturday slide, the sunshine should return on Monday. In fact, we've got to be getting into the warmer spring weather soon. It's hard to believe that winter has lingered so long into spring. Not that we're complaining too loudly. It's mid-April and there's still a three-metre base up top! But rest assured, spring is finally on its way.
So what's the official word from the top of the Mount Kenashi this morning?
At 7:29 am;
Temp at the top; -4C
New snow since close;  0cm
Base at the top; 300cm
Weather; sunny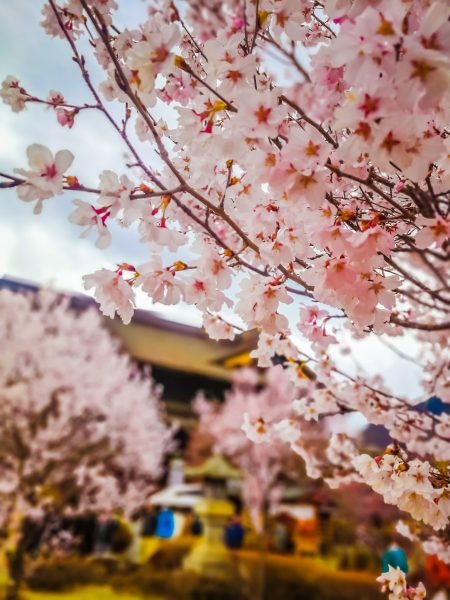 During the spring skiing season, it's quite common for guests to pair a ski trip with a visit to a few other places nearby. Nozawa Onsen happens to make a great base for day trips to a host of places. Above is the sakura (cherry blossoms) currently in bloom at Nagano City's beautiful Zenko-ji Temple. But there are plenty of others, of course.
Check out the post below for a few other easy-but-awesome day trips from Nozawa that can be enjoyed through all seasons.