Nozawa Onsen Summer v Winter
There's a really good chance most of us are here reading this post because we like seeing what our favourite little ski town looks like when it's green. With that in mind, we don't have to point out that Nozawa Onsen is among the best powder destinations you could ever hope to find. Nor do we really have to mention how unique it is to find a traditional Japanese town and free public onsens at the base of the mountain.
Given that we already know about winter, how does the Green Season compare?
Hitting the Slopes
Of course, the slopes are still there but they tend to turn into one of two things; farming land or mountain bike trails. The fresh produce will find its way to the authentic local restaurants making the dishes served a reason to visit alone. Check out our restaurant and bar guide to whet your appetite.
We also mentioned mountain biking during the Green Season. This is a burgeoning scene in Nozawa with pros and amateurs alike beginning to realise the mountain's summer potential. As such, the main Nagasaka Gondola is open for about six weeks during July and August. Click here for some more info on the growing MTB scene in Nozawa. Exact gondola opening dates may vary from season to season but please feel free to send us an email with any questions at stay@nozawaholidays.com.
Family Fun
In winter we have families visiting with members of all skiing abilities to enjoy a memorable family holiday. In summer, we've started to see more families visiting too. Sure, there's the summer skiing, but family groups who visited this past Green Season particularly enjoyed staying in our self-contained accommodations. The opportunity to escape to a traditional Japanese farming village and cook together, hike, bike, and go for a dip at Sparena's outdoor pool and kid's waterfall really put some smiles on faces.
In Search of Relaxation
Couples, friends and solo travellers visit during winter with powder on their minds. During summer and the absence of powder, the village enjoys a much quieter and relaxed feel. Perhaps you might say some of the excitement goes with it, however, those who did visit over the past Green Season enjoyed a different vibe. There are some really cool festivals on during the warmer months. The Lantern Festival and Baby Bamboo Festival particular highlights.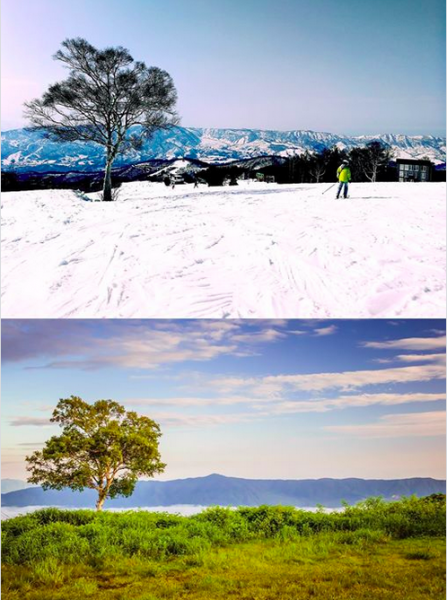 However, the real treat about visiting during this quieter time may be enjoyed whether there's a festival on or not. And that is the quiet itself. Just talking to people on the streets of Nozawa during the Green Season and it's pretty easy to grasp that the tourist hotspots like Kyoto are filling up fast. This can detract from the experience a little for people who come in search of an authentic cultural experience or the "real Japan", as some call it.
During both summer and winter, Nozawa enjoys a glorious mountain landscape to be explored. In town, you'll find fresh, locally produced food in all seasons. But what truly makes Nozawa special is most certainly here all year round; the people!
Nozawa Onsen certainly moves at a different pace during the Green Season but a slowly growing number of people will tell you that's part of the appeal!
Oh and don't forget our increasingly popular yoga retreats…
We hope to see you soon (or anytime) here in Nozawa Onsen!