Mountain Climbing Mecca Japan
Still snow in Japan if you go high enough.
Kamikochi is a Mecca for hikers and mountain lovers in Japan. Have been meaning to get there for a while and luckily managed to get there this week. With the Spring season in full swing it is the perfect time to visit. The valley floor is green and fresh mountain water runs deep through its veins. Above 1700m there is still plenty of snow so need to be prepared with crampons and mountain gear if venturing up high. Kamikochi is just over a 2 hour drive from Nozawa via Matsumoto. Public transport will take a fair bit longer and either way you need to take the Alpico bus for the last leg as cars are not allowed in the National Park.
Mountain Climbing Mecca Japan
It is also home to the Northern Alps of Japan and some of its highest peaks. Once you hike to Karasawa Hutte the base camp for this mountain range you are surrounded by 3000m plus peaks of the Hotaka Mountain Range. The highest being Okuhotaka Mountain. At 3190m above sea level it is the Third highest mountain in Japan next to Mt Fuji and Mt Kita Dake. Having already climbed Number 2 it is definitely on my bucket list. The whole area has an amazing network of Mountain Huts you can stay in and trails to climb. Note once you head above Karasawa Hutte it is not for the faint hearted you need to have the right gear and know what you are doing. But if get up there on the right day the views and atmosphere are amazing.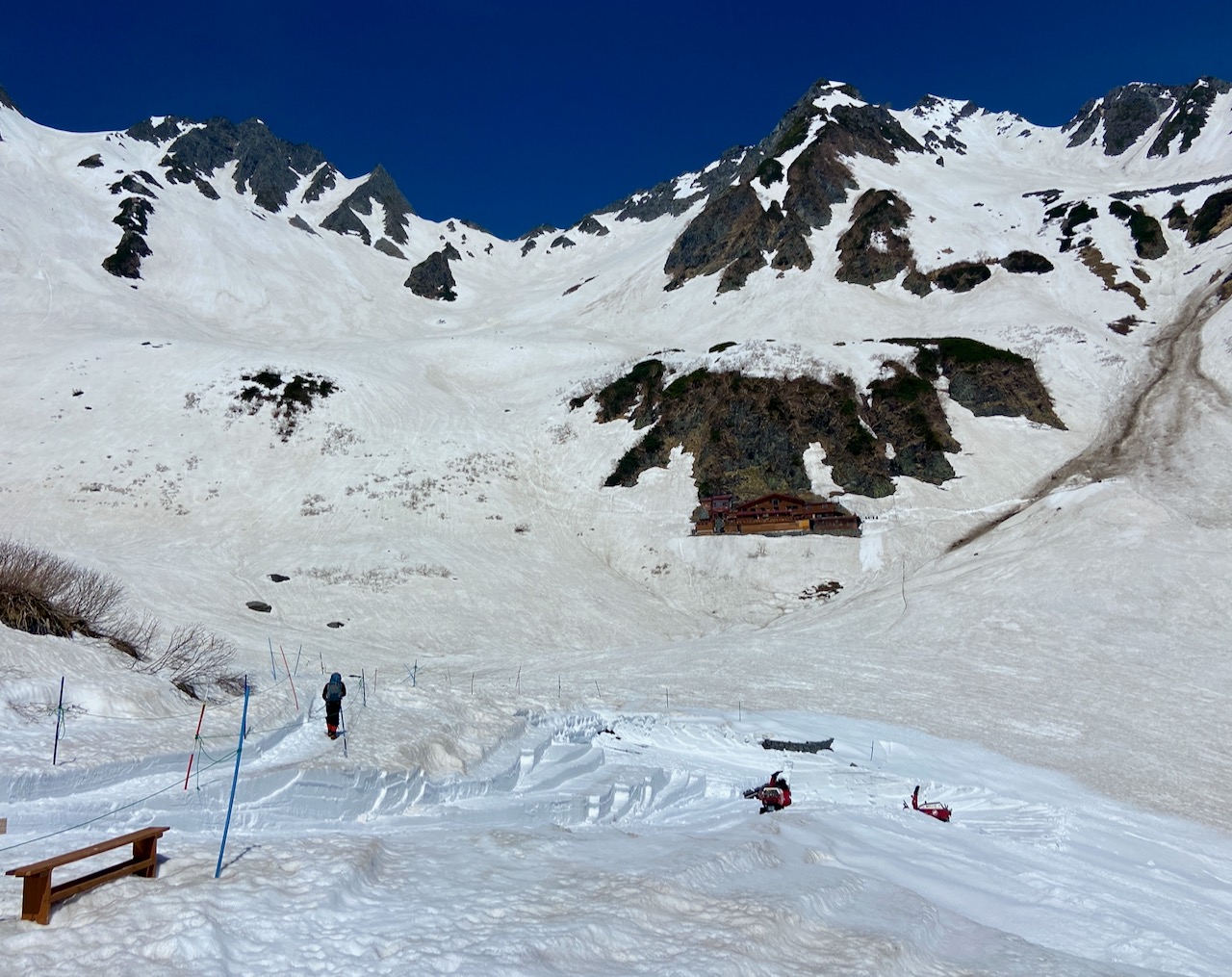 The snow will eventually melt over summer but this week they were still digging out huts buried under meters of snow from the epic season Japan had had. It was not busy up there by any means but plenty of climbers and a few skiers enjoying the stellar day. Even managed a swim in the crystal clear mountain stream. Sitting at a fresh 11 degrees in the water think passers by thought I was a bit crazy but after the climb I certainly felt alive. Japan has so much natural beauty and a mountain landscape that is world class only really accessible from late April to November. Another reason to visit and explore outside of the winter months. Will post more photos and story on the blog soon.
Take advantage of Go To Travel deals read more here; Go To Travel Nozawa Onsen
上高地は、日本のハイカーや山好きのメッカです。以前から行きたいと思っていたのですが、幸運にも今週行くことができました。春の本格的なシーズンで、訪れるには絶好の時期です。谷底は緑に覆われ、新鮮な山の水脈が深く流れている。標高1700m以上にはまだ雪が残っているので、高いところへ行くときはアイゼンや山道具の準備が必要です。