Nozawa Onsen Snow Report 13th February 2019
This is the season that keeps on giving. We've been blessed here in Nozawa with copious amounts of snow over the past few days. A monster January was followed by a relatively dry spell during the first bit of February. That is now but a memory as winter has made its powdery return.
Yesterday we woke up to a fresh 25cm followed by a morning where the dumping didn't stop until the afternoon. We then got a further 10cm last night.
At 10:00 am
Temp at the top; -7C
New snow since close;  10cm
Base at the top; 330cm
Weather; snowing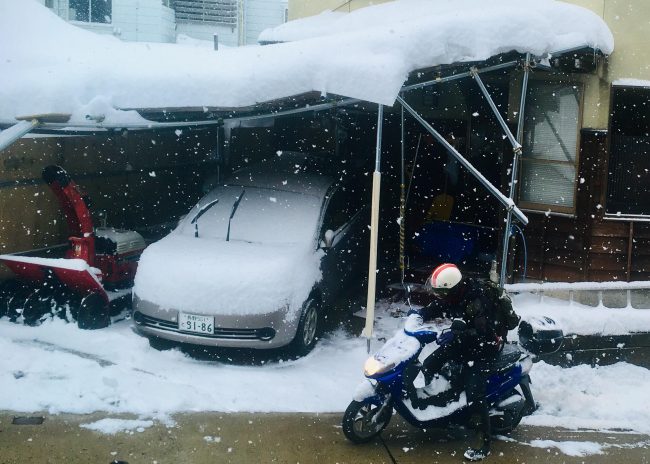 While we're enjoying the present it's a little hard to think about the future. But let's do it anyway! Believe it or not, we're only about halfway through the Nozawa Onsen ski season. All going according to plan, we'll be sliding atop Mount Kenashi right up until Golden Week in early May. It might not be something everyone has considered but spring skiing from late March onward sure has its advantages. Discounted lift and accommodation prices are among them.
Check out why some people prefer spring skiing to the powdery days of January and February.
While we're are crystal-balling the future, we might as well mention the Green Season. There's a burgeoning mountain biking scene in Nozawa which will no doubt continue to catch on. While many of the winter lifties work farms in spring and autumn, they also find time to open the main Nagasaka Gondola for mountain bikes during July/August.
Beyond the bikes, our yoga retreats are growing in popularity. It's pretty easy to see why when you visit during the aptly-named "Green Season". The bottom ski runs turn into fertile farmland while the shrines and temples make for perfect places to practice yoga. Lake Hokuryuko is also accessible meaning swimming and paddling are also on the cards. It's a truly beautiful time of year and the perfect (relatively cool) escape from the busy touristy hotspots (literally and figuratively).
Oh and there's summer skiing too! Check out all the Green Season activities below.