Nozawa's terrain is considered 30% advanced but there's a lot of fantastic off-piste riding that's not taken into account. With so many tree runs, epic backcountry and a small park, the resort's advanced terrain really deserves an article of its own. Here's a break down of the best spots in Nozawa for advanced skiing.
(Beginners, families and intermediates will find terrain information in this article.)
Off-piste for advanced skiing in Nozawa

Nozawa has one of the highest annual snowfalls in the world so the off-piste trees are magic. Nozawa is also one of the few Japanese resorts that has started to embrace off-piste skiing. The resort has opened up the tree section in the Yamabiko area at the top of the mountain. Once upon a time this area was "off limits" but has now evolved into a "self responsibility area". We're very glad for the change as the Yamabiko terrain has the best snow. Advanced skiers in Nozawa will love the natural features like bowls, booters and halfpipes. It's a relatively safe off-piste option too, without any cliffs, rivers or super tight trees. Most of the good stuff can be spotted from the chairlift so it's best to take first lifts to Yamabiko before it gets tracked out.
As for the rest of the resort, if you have to duck a rope to access it, then it's considered off limits. Yet there are still plenty of safe trees between runs and by the sides of runs. If there's no rope then you can easily cruise in and out of the powder. The Yunomine and Mizunashi areas in the middle of the resort are great for this.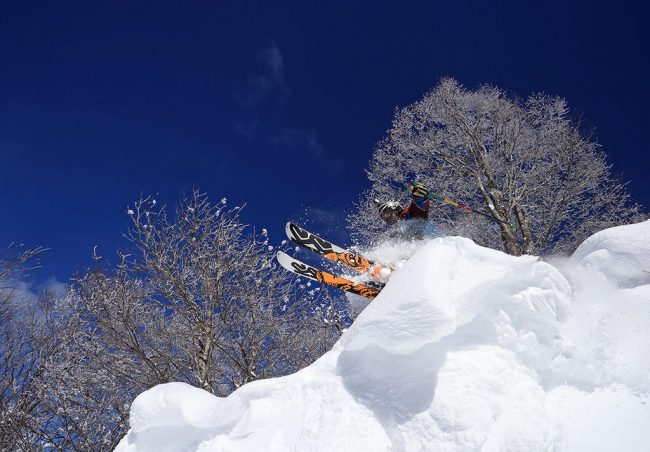 On-piste for advanced skiing in Nozawa

Nozawa's steepest on-piste run is called Challenge 39 and as the name suggests, it has a 39 degree pitch. Highly recommended on a good snow day!
Nearly all of Nozawa's black runs are left ungroomed. This can mean amazing steep powder runs if there's fresh snow or some challenging moguls if there's not! Some of Nozawa's best black runs can be found by taking the 4.5km Skyline. Skyline becomes a black run half way down and then gives you four different black-graded options to choose from. On the Hikage side you have some real leg burners like Schneider and Utopia A. Then there's Ushikubi and Kurokura in the middle area of Nozawa. These are often much quieter so you can have fresh powder lines (or zipper line moguls) all to yourself.
Finally, there's the little-known Kandahar Race Course. These two runs are groomed for races but they occasionally open to the public. On those precious days, Kandahar provides some of Nozawa's best carving terrain along with stellar views.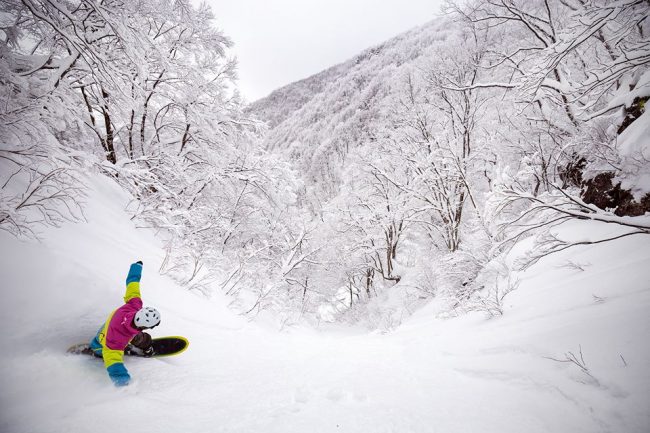 Sidecountry & backcountry
With the resort encompassing a number of valleys and bowls, Nozawa has an amazing array of lift-assisted sidecountry and hike-worthy backcountry options for advanced skiing and snowboarding. Of course most sidecountry involves ducking ropes into off-limits areas so your safety and lift pass may be compromised.
Assuming you have all the prerequisite backcountry gear and training, there are some fun options off from Skyline and underneath the Nagasaka gondola. The trees between the two Kandahar courses are a good option for relatively safe sidecountry trees.
The best way to explore Nozawa's advanced skiing terrain in the sidecountry and backcountry is certainly with a guide. This is highly recommended as there are a number of rivers and terrain traps around the resort. More than a few people have gone the wrong way on their backcountry travels and ended up lost overnight. A Nozawa guide will know the best spots to go for fresh tracks on a powder day – or where to still find powder stashes if it hasn't snowed in a few days. With a guide you're sure to pick up some awesome safety tips and be shown the best terrain for your ability level.
For more information and tips on what to do check out this link Nozawa Onsen Back Country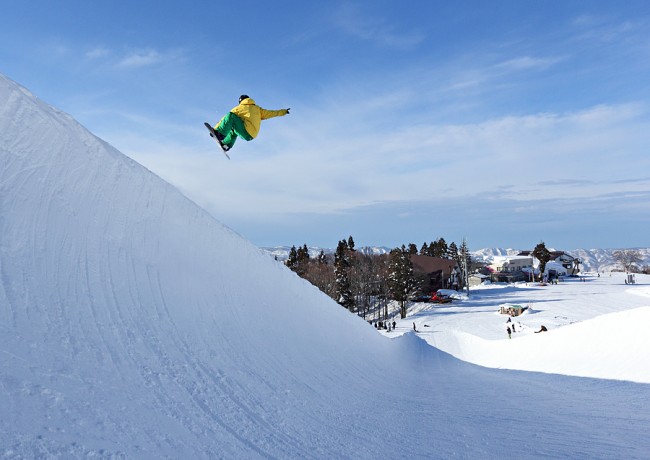 Park & pipe
Japanese resorts aren't known for their parks, so it's nice to know that Nozawa has both a park and a small pipe. You'll find Nozawa's park alongside the Uenotaira trail. It usually has a set up of beginner boxes and jumps, followed by rollers and banks, then larger rails and jumps. The park is about 2km long and is well catered to beginner and intermediate park riders, with only a few features big enough to challenge advanced park riders. The mini pipe is a good addition and can be hiked or lapped by using the Uenotaira chairlift.
Nozawa has ideal terrain for a mixed group with different ability levels. Or if you're bringing the family and want to put the kids in lessons while you progress your own skiing or snowboarding in more advanced terrain. With such an even split between beginner, intermediate and advanced terrain, Nozawa really is the resort that has it all!